RETAIL: CO-FOUNDERS WENT THROUGH THE SDSI ACCELERATOR
Bold Brew Gets Good Retail Presence, Aims for $1.5M Seed Money
Thursday, August 30, 2018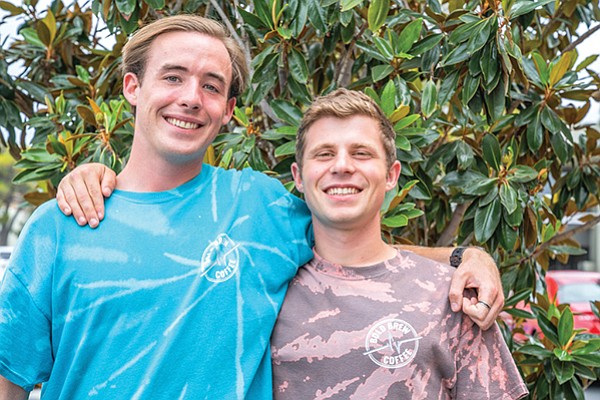 San Diego — It seems fitting for Jack Doheny and Jake Solomon, founders of Bold Brew Coffee, to have first met at a coffee stand.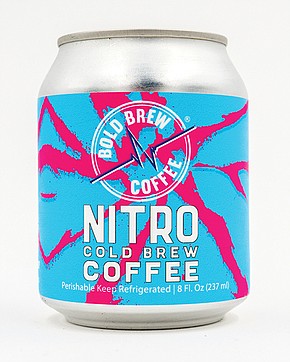 BOLD BREW COFFEE INC.
Founders: Jack Doheny and
Jake Solomon
Revenue Projections: Just under $500,000 in 2018
No. of Local Employees: Two
Headquarters: B Street (downtown San Diego)
Year Founded: 2017
Company description: Makers of natural, cold brew coffee-based energy drink
"Both Jack and I were going to San Diego State University at the time and became really good friends after meeting at the coffee stand at the library," said 23-year-old Solomon, who graduated in May with a mechanical engineering degree.
"I worked at the small coffee stand and that is how I met Jake — by giving him free coffee because he had a great tie-dye T-shirt collection," said Doheny laughing, also 23 and also a May graduate in mechanical engineering.
2017 Launch
It was their shared affection for the naturally caffeinated beverage and their mutual desire to start their own businesses that led the pair, who also have a love for action sports in common, to become friends and then link up professionally. In 2016, when Solomon presented the idea to Doheny to launch an all-natural energy drink that had no sugar, no dairy and no preservatives, based on cold brew coffee, they knew they had found their niche. The company officially launched in February 2017 with two flavors: nitro cold brew and cold brew coffee, offered in eight-ounce cans, and is already carried by 300 retailers, including Target, Albertsons and Sprouts Farmers Market throughout San Diego, Los Angeles and the Bay Area, as well as online through Amazon. They hope to grow to 1,000 stores by end of year. This year, Bold Brew which sells its cans for $3.49 each, is projected to make just under $500,000, and Doheny and Solomon hope to quadruple that number by 2019.
Targeting Action Sports Athletes
"We were playing around with this idea about things we were passionate about, and we knew we were both into coffee and action sports," said Solomon, who is a skateboarder while Doheny is into surfing. "We tossed ideas back and forth and Jack would say, 'that's stupid, that would never work.' Then finally, I said, 'why isn't there a coffee company doing the same thing as the energy drink companies do? What we drink is coffee to get our energy up.' And, that was the origin of Bold Brew."
The idea was to do something a little different to what energy drink companies were already doing, by offering an all-natural energy drink that both Solomon and Doheny enjoyed, with the hopes of targeting other action sports athletes like themselves. So, Solomon and Doheny put their hard-earned, summer jobs money together, for a total of $3,000, and began working on Bold Brew. The two participated in San Diego Sport Innovators (SDSI), a nonprofit business development organization for sports and active lifestyle startups through which members go through a 20-week accelerator, which helped connect them with local investors and other San Diego-based innovators. They also received $5,000 from SDSU's Zahn Innovation Platform Launchpad.
"We had a significant learning curve," said Doheny, adding the process of cold brewing coffee involves roasting coffee, steeping it and straining it. "We googled it and we figured it out, and we did some iterations along the way. We also reached out to some of our mentors in the coffee space, especially relying on (brothers) Bryan and Daniel Charlson from Dark Horse Coffee Roasters, who are original coffee roasters from San Diego."
Manufacturing
As a result of their growth, Doheny and Solomon, who were originally hand-brewing and hand-bottling all of their orders in a small commercial kitchen in El Cajon, are now working with an undisclosed commercial manufacturing company in New Mexico that handles that portion of the business for them. Doheny and Solomon also partner with distributors in all of their target areas in order to get Bold Brew, which sources its coffee directly from a small family farm in Colombia, in retail stores in those regions. While the coffee-sourcing spend is confidential, Doheny says that direct store distributors take 25 percent margins on the product.
Now, Bold Brew, which has a new as-yet-not-revealed product hitting the market this fall, is trying to build capital, according to Doheny. "We are in the middle of a seed friends and family round and reaching out to angel investors in San Diego and in different parts of California to raise $1.5 million," said Doheny.
"Our secret sauce is we work every day and we build on the business every day, so that we can have a quality product and provide a quality service," said Solomon.
For now, Doheny and Solomon plan on keeping their mechanical engineering degrees on the back-burner and focus on making Bold Brew a national and global name.