Reporter's Notebook: Startups Make Wise Investment Of Time at Venture Summit
Sunday, August 26, 2018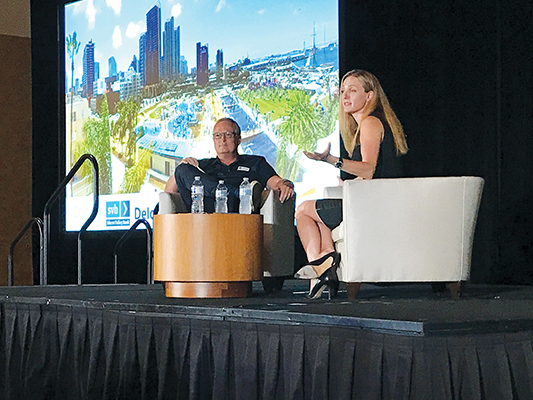 San Diego — Earlier this month, an oft-heard refrain in San Diego startup circles — "there aren't enough venture capitalists in town!" — rang false, at least for a couple of days.
The San Diego Venture Group's 16th annual Venture Summit was a two-day affair which kicked off Aug. 15 with an invite-only get together at Petco Park where about two dozen early-stage companies made their pitches for Series A investment to dozens of investors.
Afterward, investors watched the Padres ballgame with 20 CEOs of local startups that have already raised venture funding.
Mike Krenn, who heads SDVG, estimated 90 venture capitalists from outside San Diego attended, plus about 30 local investors.
The following day roughly 600 people turned out for the public portion of the yearly event, held at the Hilton Bayfront in downtown San Diego, for a half-day series of talks by 10 VCs.
Three addressed what VCs are looking for: Accomplice's Jayni Shah shared how she views the term sheet process; Susan Liu of Scale Venture Partners addressed the metrics she considers when deciding whether to invest in a software-as-a-service company; and Victor Echevarria, of Jackson Square Ventures, talked about what he wishes he had known about venture capital as a founder.
Three others discussed topics related to life sciences: Heather Behanna, with Sofinnova, talked about how to get a life science VC's attention; Megan Blewett, of Venrock , discussed how to know when academic research is ready to be commercialized; and Anna Fokina, of DCVC Bio, talked about how blockchain is impacting health care and agtech.
Upfront Ventures' Chang Xu demonstrated ways in which computer vision is impacting business; Christina Ku, of NTT Docomo Ventures, talked about international venture capital; and Shasta Ventures' Natalie Sandman explained the product milestones that matter most when raising money.
Dafina Toncheva, a partner at U.S. Venture Partners, gave the event's keynote address. She spoke with Mark Bowles, the San Diego entrepreneur and investor who founded ecoATM, which makes self-service kiosks for recycling or reselling cellphones and other electronics and was acquired five years ago for $350 million.
Toncheva recently led USVP's investment into construction technology company Raken, a SaaS firm based in Carlsbad.
She said while entrepreneurs in San Diego may feel at a disadvantage compared with founders in Silicon Valley, where funding and talent is more plentiful, there are also advantages.
Being surrounded by competitors can be distracting and demotivating, she said.
Prev Next