NASSCO Tapped For Design Help With Logistics Ship
Sunday, August 26, 2018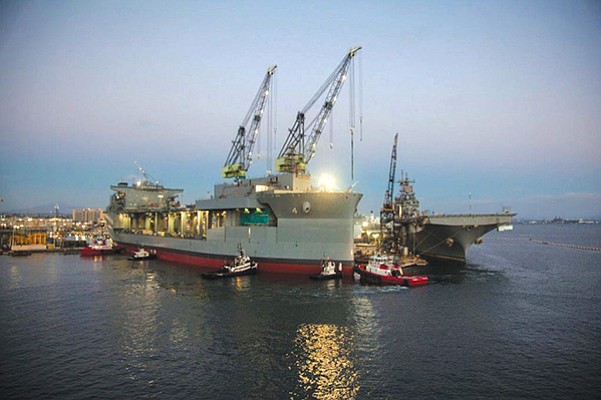 San Diego — The Navy has asked General Dynamics NASSCO for some early help in designing a new class of logistics ship.
San Diego businesses are getting involved in a project to create a common-hull ship that could serve various purposes, said Vice Adm. Dixon Smith in an Aug. 22 appearance.
Executive Dennis DuBard with shipbuilder NASSCO confirmed that his company is working on the project — though it is still in the early stages and the Navy has not come up with its requirements yet.
The new logistics platform, called CHAMP, could serve as a hospital ship, or a ship to pre-position military equipment. CHAMP stands for Common Hull Auxiliary Multipurpose Platform.
Other shipbuilders are angling to get the work, according to U.S. Naval Institute News.
NASSCO is already building a series of expeditionary sea base ships. In 2016 it received a contract to build six oilers and possibly more. The latter rendezvous with fighting ships to refuel them. Terms of the oiler deal were not announced.
Smith said the strategic sealift fleet — the ships that move cargo for those who fight wars — is more than 40 years old and the nation has not focused on it. In the short term, he said, military planners can extend the life of current ships, buy used ships or rely on shipping companies flying under the U.S. flag. They can also look at a long-term solution, such as CHAMP.
General Dynamics shares trade on the New York Stock Exchange under the symbol GD.