Dahl Already Familiar With San Diego's Selling Points
Sunday, August 26, 2018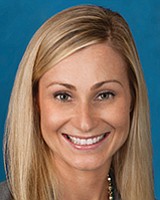 San Diego — Natalie Dahl hopes to come bearing gifts as she takes over as CBRE's managing director for investor services in the San Diego region.
Dahl, who is set to assume her new post in October and spent the past two years as a vice president of CBRE's Capital Markets team in San Francisco, said there's been a considerable migration of companies from San Francisco to Oakland and other areas within the Bay Area.
"San Diego would be a great alternative," Dahl said. "We do know of companies that are looking at San Diego."
She credits the city for "really trying to plan ahead and think long term and really attract companies to grow."
One attraction for San Diego is the relatively low rents, compared with San Francisco.
Monthly office rents in Class A buildings average about $6.50 a square foot in San Francisco, compared with about $3.40 a square foot in San Diego, Dahl said.
San Diego and San Francisco do share some traits.
"Both markets are strong; they're strong in terms of fundamentals; they're strong in terms of investor interest," Dahl said.
There's also a scarcity of land to build on in both cities, prompting some landlords to spruce up older buildings to appeal to tenants.
In San Francisco, demand is so strong that, "They're taking down entire buildings at a time, it's incredible," Dahl said in a telephone interview from San Francisco. "The inventory that is coming on line this year and that has come on line over the past year, 98 percent of it has been preleased. On top of that, we're in a supply constrained market here. There is no new construction coming on line in San Francisco in the next three years."
San Diego also has had a dearth of new office construction, although some new office projects such as Lankford Associates' Block D in East Village are coming on line or planned.
Even so, Dahl said that one of the biggest problems San Diego has is that there are few large blocks of space to lease.
"For companies that want bigger footprints in San Diego, it's all about creativity," Dahl said. "You take Class B and C buildings and you look for opportunities to convert them to Class A."
A native of Mission Viejo in Orange County and a 2001 graduate of the University of San Diego, Dahl said she plans to move back into a condominium she has in the Marina District, near Little Italy and the Gaslamp Quarter.
"There's a lot of excitement going on down there," Dahl said. "There's a lot of apartment projects going on, there's a few condominium buildings. You also have hotel developments, you have the Broadway (Pacific Gateway), you have Seaport Village — things that are in the pipeline that will dramatically change downtown in the next five years."
Dahl was appointed to her new post in August to replace Paul Komadina, who was named senior managing director and regional manager of CBRE in Arizona.
She said she will be working with investors directly "so they have a point person they can go to."
Often, investors are dealing with several people within the company from offices at various locations at the same time.
"Sometimes, having a local point person can be helpful," Dahl said.
Meanwhile "I'm living the life of a sales professional right now in one of our largest teams on the West Coast," Dahl said. "I hope I can take a lot of the experiences I've had to date and bring that to this role in San Diego."