SOLANA BEACH PROJECTS' ECLECTIC DESIGNS FIT IN BY BRINGING THEIR OWN CHARACTER, STYLE TO THE MIX
Solana Beach Projects' Eclectic Designs Fit In
Tuesday, August 21, 2018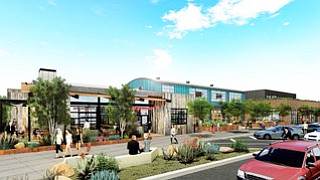 San Diego — A series of projects are planned or underway in the center of Solana Beach that in at least one case will remove what many said has become an eyesore.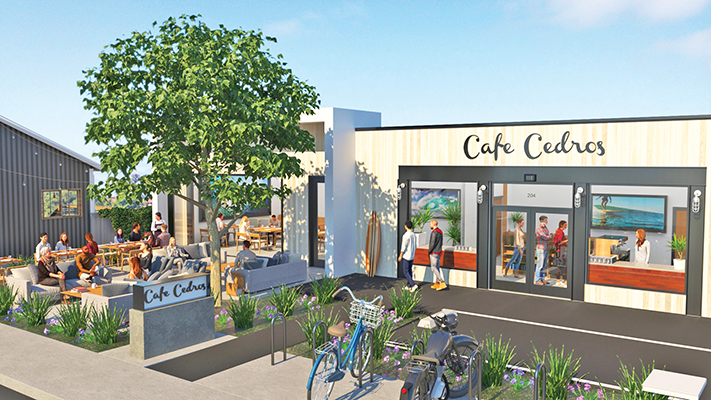 Encinitas-based Zephyr Partners is moving ahead with plans for a mixed use project — Solana 101 — on a 1.9 acre site on South Highway 101.
The site now includes two vacant single-family homes, a vacant coffee kiosk, and a former mobile home park with nothing left on it but concrete pads and has been a source of ongoing complaints from people who live and work nearby.
Finishing up is the renovation of a row of run-down buildings in the Cedros Avenue Design District that were used as mini-storage units and a plumbing contractor's office and yard.
330 Cedros
Expected to get underway soon in the Design District is construction of "330 Cedros," a 26,000 square-foot mixed use project by RAF Pacifica on a one-acre plot that had been Cedros Gardens until it closed in 2015.
The three projects fit nicely into the city's drive for projects that improve and take advantage of the city's walkability without causing a huge impact, said Mayor David Zito.
Solana 101 in particular "should be a really nice anchor with respect to what future development looks like on 101," Zito said.
The site is bounded by South Highway 101 on the east, Dahlia Drive on the south, South Sierra Avenue on the west and CVS Pharmacy on the north.
The 93,764 square-foot project will include 45,587 square feet of office space, 10,562 square feet of indoor restaurant space, 2,920 square feet of space for outdoor dining, 4,142 square feet of retail space, 25 condominium units in 33,473 square feet, and two levels of underground parking with 366 parking spaces.
Targeting the Younger Buyer
The condominiums will range in size from 940 square feet to 1,310 square feet.
"A lot of what we get in Solana Beach is 3,000 square-foot homes," Zito said. "This will be smaller units, hopefully targeted toward the younger buyer."
Solana 101 was approved by the City Council in July and must also be reviewed by the California Coastal Commission.
Zephyr did not disclose renovation costs, but company CEO Brad Termini said the project "fulfills the community's vision for Solana Beach and will be enjoyed for decades to come."
Zephyr's other projects include The Park Bankers Hill, a 54-unit condominium development overlooking Balboa Park in San Diego. The company also recently acquired the former Oceanside drive-in, but Zephyr hasn't indicated what it will do with the property.
Construction of Solana 101 is tentatively slated to start in May 2019 and finish in fall 2020, Termini said.
An existing pedestrian bridge across Highway 101 gives Solana 101 access to the Cedros Avenue Design District, site of the renovated Cedros Collective.
The Design District is a 2½ block stretch of Cedros Avenue with more than 85 shops, boutiques and galleries.
Brian Caine, co-owner of Cedros Collective, said he was drawn to "the vibrant and eclectic nature of the street."
"We think it's a great place for shopping or to have an office because of all the amenities that exist on the street and its accessibility to the 101 corridor across the bridge," Caine said.
In planning the renovation, Caine said, "we wanted to stand out and break up the long linear surfaces and create an inviting pedestrian (friendly) series of shop fronts and office."
Caine acquired the site in June 2016 for nearly $3.3 million but didn't say what the renovation cost.
The architect on Cedros Collective, Brian Church, said the collective site "was just kind of a missing tooth in the retail along the street."
Giving It More Character
The collective encompasses two buildings, but changes to the façade give it the appearance of six smaller buildings to give it more character.
"We didn't want them to look like mini-storage buildings anymore," Church said. "Rather than a strip mall, this looks like individual buildings."
The converted structure has retail space and a café facing the street with office space in the rear.
"We got rid of a couple of dead-end parking spots, planted a big tree and added a patio area," Church said. "The café use was really important because that gives you an anchor at the south end."
330 Cedros — which is also the address — will include a 3,200 square-foot restaurant and 5,000 square feet of retail on the ground floor.
The second floor will have 8,000 square feet of office space and eight apartments taking up 10,000 square feet.
Site Purchased for $5M
RAF Pacifica acquired the site in 2017 for $5 million but has not divulged construction costs.
"We're looking to have more restaurants on Cedros and 101," Mayor Zito said. "Having the residential units above it within walking distance to the train station is useful too."
Stylist Sara Simon, owner of Handsome Salt Interior Design, said each apartment will have its own look, in keeping with the Design District.
"It's not going to be something you're going to see at the next place two blocks over, you won't see the same design," Simon said. "I would personally like to live in them. They're just really special."
Simon said she's going for an "industrial design" look.
"You'll see cinder block, white-wash-to brick, concrete, wide plank floors, cement tile," Simon said. "It's definitely more edgy and push the limits with design."