Liberty Station's Moniker Group Expands Commons Coworking Space
Tuesday, August 21, 2018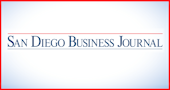 A coworking space on Liberty Station, Moniker Commons, recently expanded, adding 4,000 additional square feet of coworking space.
Moniker Commons, a brand of Moniker Group, launched in 2017 in an 8,800 square foot space at 2869 Historic Decatur Road.
Moniker Group has leased a 9,000-square-foot building adjacent to the Moniker Commons space. In addition to 4,000 square feet of new coworking space, the space houses the company's headquarters.
Owners Ryan Sisson and Nathan Cadieux have dubbed the new property Moniker Commons II.
Common desks at Moniker Commons cost $300 monthly; private desks, $500. Private offices start at $1,500.
Reach reporter Sarah de Crescenzo at sarahd@sdbj.com.