TECH: SOME ANALYSTS SEE OVERREACTION, RATE STOCK AS A BUY
Viasat's Stock Dips On Q1 Results
Monday, August 20, 2018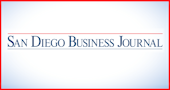 VIASAT INC
CEO: Mark Dankberg
Revenue: $1.59 billion in fiscal 2018; $1.56 billion in fiscal 2017
Net loss: $67.3 million in fiscal 2018; net income of $23.8 million in fiscal 2017
No. of employees: 2,700
Headquarters: Carlsbad
Year founded: 1986
Stock symbol and exchange: VSAT on Nasdaq
Company description: Broadband services and technologies company
San Diego — Shares of Viasat Inc. swooned, dipping 17 percent Aug. 10 after the company released results from the first quarter of its 2019 fiscal year.
Analysts called it an overreaction, and shares later made up some of their lost ground. At the close of trading on Aug. 15, they stood at $63.15, down 12 percent from their pre-announcement price of $71.77.
"Investors reacted harshly" to weaker subscription and margin outlook, wrote Rich Valera of Needham & Co. LLC. "The consumer [subscription] adds and outlook were disappointing, but we think can be mostly offset by higher ARPU" or average revenue per user, Valera wrote.
Part of the problem is the company is still paying for its recently launched Viasat-2 satellite. "Margins that were weak on VS-2 startup costs and high bid/proposal activity should improve meaningfully as the year progresses," Valera wrote.
Viasat offers hardware and software for satellite communications, as well as satellite services. It sells to government, commercial and consumer clients.
"I think skeptics don't understand the earnings inflection that will occur as [Viasat-2] loads, nor the fact that satellite services extend way beyond just U.S. residential broadband," B. Riley FBR Inc. analyst Mike Crawford said in an email. Viasat-2 covers not just the United States and Canada, but Mexico, Central America and the North Atlantic.
Both Valera and Crawford rate Viasat (Nasdaq: VSAT) as a buy.
Higher Net Loss
Viasat recorded a higher net loss — and higher revenues — in its first quarter, which ended June 30.
Revenues of $438.9 million were 16 percent higher than the $380 million in the same quarter one year ago. The Carlsbad company announced financial results after the market closed on Aug. 9.
Net loss was $34 million, when calculated under generally accepted accounting principles or GAAP. Net loss in the year-ago quarter was $9 million.
American Airlines Deal
Viasat also announced that, after the close of the quarter, it signed a deal with American Airlines (Nasdaq: AAL) to equip 100 new Airbus A321neo aircraft with its in-flight connectivity and WiFi entertainment systems. Financial terms of the contract were not disclosed.
Viasat attributed its net loss to spending on several projects. They included fixed-cost investments in network infrastructure for ViaSat-2 and expenses to market its consumer broadband services. The company's service territory expanded when ViaSat-2 went into commercial use.
Viasat also said it was investing in business infrastructure to support growth across all segments. The company said it anticipates rapid growth.
"Multiple irons hotting up," Crawford, the analyst, wrote in his note. Crawford gives Viasat shares a price target of $89, though Valera reduced his price target to $70.
The Carlsbad business added in-flight connectivity systems to 122 commercial aircraft during the first quarter for a total of 757 aircraft equipped. When the quarter ended, the company was under contract to install systems on 854 more aircraft. (The figure does not include the American Airlines deal, sealed after the quarter ended.)
Viasat's sales backlog was $1.6 billion in June 2018.