DEVICES: 300 JOBS TO REMAIN; CO. CONSOLIDATING OPERATIONS
DJO Moving to Texas, Cutting 187 Local Jobs
Sunday, August 19, 2018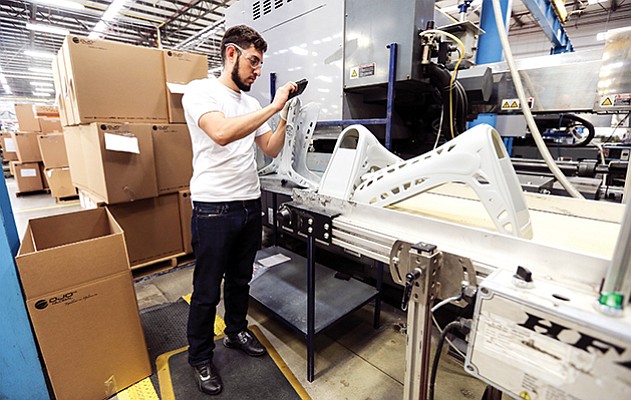 DJO GLOBAL
CEO: Brady Shirley
Revenue: $310.3 million in Q2 revenue, a 1.5 percent year-over-year increase.
Employees: 5,500
Headquarters: Vista
Year founded: 1978
Description: DJO Global develops and manufactures products in bracing for injury prevention, surgical implants and neuromuscular stimulation
San Diego — DJO Global, which grew from a garage startup to become one of North County's largest private employers, is laying off 187 local employees and relocating its headquarters to Dallas, Texas.
A major force in the orthopedic bracing industry with 2017 sales of $1.19 billion, DJO Global will keep 300 workers in North County. The company is based in Vista.
"DJO is relocating a number of its corporate employees to a more centralized location to drive growth, accelerate the business, and improve the employee and customer experience," the company said in a statement, citing as well employees paying less in taxes and for housing.
Kevin Ham, director of economic development for Vista, said he was told Texas' business environment wasn't the overriding reason for moving. The company wants to consolidate national operations there, also a central spot for doctors and consultants giving the company's products a spin.
"The corporate headquarters on the West Coast really made it difficult for physicians to make it from the East Coast," said Ham, noting the city and company have been in close conversation over the years.
Had Considered Moving Before
Previously, DJO had twice considered relocating, according to Ham. To help fend off the first attempt, the city in 2004 assisted with setting up a manufacturing plant in Tijuana to lower costs. Additional incentives later included training funds.
In a June interview with the San Diego Business Journal, CEO Brady Shirley gave no indication the company was exploring a move, citing DJO's proximity to Tijuana as an advantage.
No changes are on tap for the Tijuana facility, which produces braces, surgical implants and neuromuscular stimulation products.
The remaining 300 North County employees, part of corporate, bracing and supports, consumer business and manufacturing divisions, will work out of Carlsbad and Vista offices.
The company's main Vista building will be leased out, which Ham expects to be snapped up quick on account of the area's low commercial vacancy rate.

"We're sad to see them move the company headquarters to Dallas, but also understand the reasons it makes sense for them from a corporate standpoint, and we're glad that they're still keeping 300 people," Ham said.
DJO began in a Carlsbad garage in 1978, founded as DonJoy by Mark Nordquist, then a Philadelphia Eagles offensive line captain, and lawyer Ken Reed.
Prev Next