San Diego's GreatCall Acquired By Best Buy For $800M
Thursday, August 16, 2018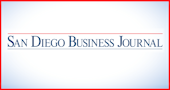 San Diego-based GreatCall, which sells products targeting seniors including the Jitterbug mobile phone, has been sold by its private equity owner to Best Buy, the consumer electronics retailer, for $800 million.
Chicago-based PE firm GTCR bought GreatCall for an undisclosed amount in June of 2017.
Dave Donnini, GTCR managing director, said the transaction was unusual in that the firm typically holds portfolio companies for longer than 14 months.
But Best Buy was "persistent," Donnini said.
"GreatCall's proprietary product offering and history of innovation have created a strategically valuable business within the large and growing markets of technology and services for seniors," GTCR said in a statement announcing the transaction. "Partnering with Best Buy is a strategic fit that will provide GreatCall access to Best Buy's distribution capabilities and recent investments in health-related initiatives focused on the aging population."
Best Buy said that GreatCall, which has more than 900,000 paying subscribers to its connected health and emergency response products and services, will allow it to bolster its tech offerings for the growing number of aging Americans. About 50 million Americans are older than 65 years old, but that is expected to increase by more than 50 percent in the next 20 years, Best Buy said.
GreatCall will maintain its San Diego headquarters and its office in Carlsbad, Best Buy said. CEO David Inns, who has been with GreatCall since its formation in 2006, will stay on as chief executive.
The deal is expected to close by Sept. 30.
Reach reporter Sarah de Crescenzo at sarahd@sdbj.com.