RETAIL: VERSATILE USES INCLUDE PROMOTIONAL EVENTS
Pop-Up Trend Gives Retail a Fun-Size
Thursday, August 16, 2018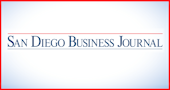 & Boom Unlimited
Founders: Anne Buehner and Mary Carr
Projected Revenue: $750,000 per location for first installation
No. of Employees: Two
Headquarters: Encinitas
Year Founded: 2017
Company Description: A creative agency that focuses on creating immersive pop-up experiences and other interactive branding initiative
San Diego — When sisters Anne Buehner, 33, and Mary Carr, 26, who have branding and retail experience collectively, noticed an absence in agencies dedicated to creating pop-up experiences in San Diego recently, they joined forces to launch their creative firm, & Boom Unlimited, last year.
"A lot of people were traveling from S.D. to other cities like L.A. to see these kinds of trendy, new pop-up art experiences, and we were sitting there lamenting why San Diego was not exploring these types of things," said Carr, who, with her sister, is working on their premiere project, The Cado, with a focus on schooling visitors about avocados in a fun, multidimensional, interactive way. "That's when we decided to launch with The Cado, because S.D. is one of the largest growing regions of avocados and there are so many stories to tell in relation to this."
The $27 per ticket mobile show, sponsored by the California Avocado Commission, will come to life by way of 16 shipping containers joined together to create a 6,700 square foot structure and will be comprised of seven rooms, a retail store and an outdoor area. The show space will have a capacity to hold up to 490 guests per day, and will open six days a week for three months later this year or next for a total of 36,000 guests, said Buehner.
The plan is to then take The Cado, which will be located first at Point Loma's Liberty Station, on the road to three cities per year, with ticket sales projected to be up to $750,000 per location, all of which will go to & Boom Unlimited. Thirty-five percent of ticket sales will go to areas like payroll, operations, rent and utilities, while there will be other costs, including updating art, interiors, moving, marketing and installation, said Buehner. "We basically break even at location one and begin to make money for each location after that," she said.
Seasonal Store
Just a decade ago, a pop-up shop was most commonly known as a seasonal store, like a Halloween-themed location that popped up around October or a Christmas-focused warehouse that sold everything from trees to toppers during the holidays. And then there was the rotating mall kiosk, that one week sold hair weaves, the next week trendy sunglasses, and then the next week something else.
But the traditional "pop-up" is evolving. It was a term coined in 1999 or early 2000s, most often used to mean a temporary location to generate customer loyalty, understand a new market and test new concepts surrounding a retail, art or culinary brand, according to Melissa Gonzalez's "The Pop-Up Paradigm: How Brands Build Human Connections in a Digital Age" book. While 10 years ago, a pop-up was somewhat of a novelty, today, it is more of a marketing norm. Despite being a smaller market, comparatively speaking, San Diego is finding its place in the growing trend.
Buehner and Carr have the right idea, at least according to what data shows. Three years ago, Pop-Up Republic, a Chicago-based marketing firm and retail database, estimated the pop-up business was generating between $45 billion to $50 billion in annual revenues nationwide. Now, Storefront, a pop-up rental business with offices in New York, London, Hong Kong, Milan, Amsterdam and Paris, estimates the temporary retail industry is expected to generate $80 billion per year nationally, with offline channels driving 94 percent of retail sales.
Carving Out Dedicated Spaces
San Diego State University marketing professor Miro Copic says despite lacking locally-based agencies dedicated to creating pop-up experiences in and for the city, there does seem to be a desire to partake in the growing trend from the consumer side. And, as a result, contractors for newer construction, like the revamped portion of the Westfield UTC mall, are being more intentional about carving out dedicated spaces for temporary stores.
"Malls are thinking of pop-ups in three different ways now: one, filling store fronts while negotiating permanent merchants. Two, looking at open space and identifying the number of pop-ups that are in line with the mall's image. And three, trying to make them permanent by saying, 'Look, I know you can't afford a thousand square feet or whatever, but, at 400 square feet, your rent will be miniscule on a relative basis,'" said Copic. "It's a great way to drive traffic and be the new image of what the mall hopes to be and helps keep costs low for the pop-up owners while providing supplemental income for the mall owners."
To Copic's point, Storefront states on its website it can open a pop-up for $2,000 compared with $98,000 for a permanent location, can get it up in 12 days as opposed to the 60 days it usually takes to set up a retail store, and can generate about $1,230 sales per square foot compared to $341 sales per square foot in an average retail environment.
Cultural Connection
Although not a lot of purveyors of pop-up shops are present in the county, San Diego-based businesses are still finding ways to engage in the pop-up scene on a variety of levels. You & Yours Distilling Co., founded last year by Laura Johnson, hosts at least one relatively-small, self-produced pop-up event a week at the East Village distillery, during which it teams up with local companies for themed events for a ticketed price.
"We have an in-house event manager whose job is to reach out to potential partners," Johnson said. "It is really important for us that the brands we partner with align with our core values and to keep coordination in-house because no one knows our business like we do. I can see how, on a larger, more corporate scale, it might be beneficial to hire a dedicated company."
Big Productions
Then there are full-fledged, immersive productions like "With Creative License," the event featuring interactive art from global artists currently running at the B Street pier. Los Angeles-based Wonderspaces, a company that focuses on delivering art-focused experiences, had such success with its first pop-up show last year, which drew more than 60,000 visitors that it was asked to return to San Diego this year by the Port of San Diego to create a similar installation. The experience runs through the end of August.
"Our concept here is that if we can partner with those artists to deliver these works to San Diego and to communities which might not have otherwise the opportunity to see it without traveling and spending time and resources to access that art," said Wonderspaces co-founder and president Jason Shin. "By making it convenient to get to and more affordable to see, it starts to feel like a more casual role in people's everyday lives. And, whether they identify with art today, or not, it could be just as enjoyable."