TECH: CO. CREATES PLATFORM TO FACILITATE AND FOLLOW IN-STORE TRANSACTIONS
Co. Creates Platform to Facilitate and Follow In-Store Transactions
Wednesday, August 15, 2018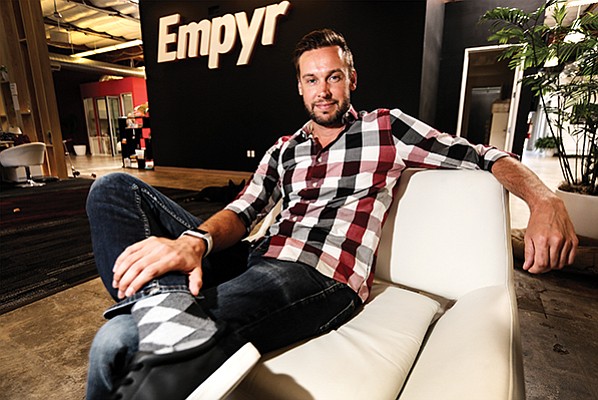 continued — For example, if Yelp had no businesses listed, it wouldn't be of interest to potential diners and shoppers; if diners and shoppers didn't find the listings useful, it wouldn't be of interest to businesses looking to advertise.
Carder repositioned his company to instead take advantage of the communities built by other companies, and offer them a way to trace how advertisements and offers from their users impacted in-store sales, and thereby revenue.
Customers and businesses may not know the Empyr name, but the company's technology facilitates reward programs offered online, and — because a customer's card must be linked to the platform to take advantage of the deal — provides data on who is taking advantage of it.
Here's how it works: A restaurant, let's say, pays Yelp to offer users that visit its profile a reward of 10 percent cash back on a purchase. A customer who has provided his or her debit or credit card information to Yelp sees the reward, visits the restaurant and pays for dinner with the linked card. At month's end, the customer gets that money. Yelp gets a cut of the sale; so does Empyr. It's Empyr's relationships with major credit card companies that allows it to track those purchases and share data with the businesses and publishers with whom it works.
A Challenging Space
Convincing those companies to partner up with Empyr wasn't easy, Carder said.
However, that drawn-out process presents a barrier to entry to the online-to-offline (O2O) rewards segment, reducing competition.
Some competitors have been snapped up recently as the market consolidates.
Last year Nashville card-linked offers company Edo International was acquired by Auego, a Minnesota company that provides consumer and employee engagement and incentive programs, and Cartera Commerce, based in Massachusetts, was acquired by San Francisco headquartered loyalty marketplace Ebates.
Empyr launched its platform 2½ years ago. In the first quarter of 2018 alone, Empyr added two million cards. Fewer than 500,000 cards were linked in the same quarter one year prior.
"With Mogl, I don't even think we added a million cards in five years," Carder said.
Wilbur said Empyr's technology can show companies the direct impact their digital ads are having on sales — something that has proved elusive, even for companies such as Google and Facebook. "The unique aspect of Empyr's positioning is its ability to observe the results of an online ad in the offline world., which is something that is really important for the digital advertising industry," Wilbur said. "I wouldn't say it's the only interesting solution out there, but it looks like potentially a very successful one."