TECH: CO. CREATES PLATFORM TO FACILITATE AND FOLLOW IN-STORE TRANSACTIONS
Co. Creates Platform to Facilitate and Follow In-Store Transactions
Wednesday, August 15, 2018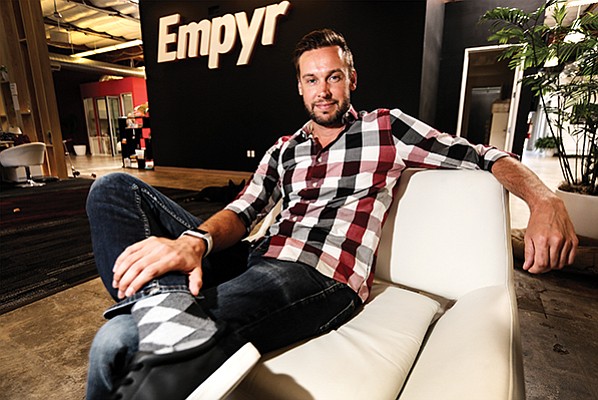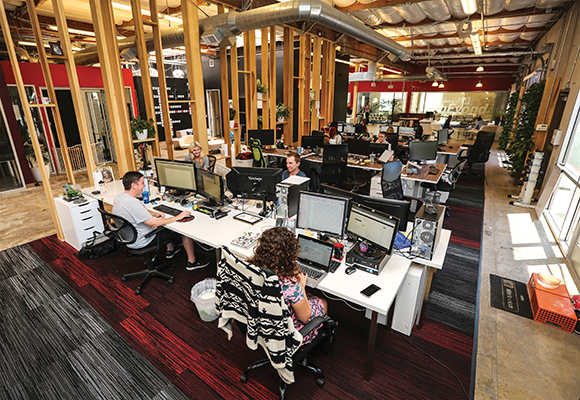 EMPYR
CEO: Jon Carder
REVENUE: Undisclosed (private company)
Funds raised: About $50 million
No. of local employees: About 60
Year founded: 2010
Headquarters: Sorrento Valley
Company description: Technology provider to platforms and merchants offering card-linked rewards.
San Diego — As much as companies assert their uniquenesses, some users see little difference between using Uber or Lyft to hail a ride via smartphone or Livingsocial instead of Groupon for local deals.
That has these technology platforms vying to increase their "stickiness" — a term for how often and for how long customers visit — by incentivizing users to favor them.
Empyr, a San Diego company founded in 2010 that has raised $50 million from investors, is working with some of the largest such companies in the world to increase customer loyalty — and revenue — by offering users rewards, such as cash back, for offline purchases made with a card linked to an online platform.
Card-linked offers streamline traditional reward programs, which require users to show a coupon, loyalty card or code to access a deal.
Started as Mogl
It's a pivot from the company's initial foray into the reward space, and one that CEO Jon Carder believes could make the company San Diego's next unicorn in as few as three years. He declined to disclose revenue
The company was initially called Mogl. Its first product was a consumer-facing, gamified reward program targeted at local eateries. Users who linked a payment card to the Mogl mobile app would be offered cash back for paying for meals out at participating restaurants.
The Mogl customer loyalty program won Connect's Most Innovative Product competition in late 2011 and raised more than $10 million. Avalon Ventures, a San Diego-based venture capital firm, was among its backers.
Repositioning the Company
But Carder said competition was fierce, and seeing major companies launch their own card-linked reward programs prompted him to turn the business into a platform instead.
"It dawned on us that we could probably scale this thing a lot faster and grow a lot bigger … we could be the hub of this industry," he said.
Ken Wilbur, associate professor of business analytics and quantitative marketing at UC San Diego's Rady School of Management, has conducted research into multisided platform businesses, which facilitate interaction between groups. To succeed, such businesses must gain traction rapidly, or have ample funds so as to survive while gaining influence.
"The main issue is the chicken-and-egg problem," Wilbur said. "When you're trying to match agents of two different types, the concern is that each type of agent will only get on board your platform if you have enough and the right type of the other agent."
For example, if Yelp had no businesses listed, it wouldn't be of interest to potential diners and shoppers; if diners and shoppers didn't find the listings useful, it wouldn't be of interest to businesses looking to advertise.
Carder repositioned his company to instead take advantage of the communities built by other companies, and offer them a way to trace how advertisements and offers from their users impacted in-store sales, and thereby revenue.
Customers and businesses may not know the Empyr name, but the company's technology facilitates reward programs offered online, and — because a customer's card must be linked to the platform to take advantage of the deal — provides data on who is taking advantage of it.
Here's how it works: A restaurant, let's say, pays Yelp to offer users that visit its profile a reward of 10 percent cash back on a purchase. A customer who has provided his or her debit or credit card information to Yelp sees the reward, visits the restaurant and pays for dinner with the linked card. At month's end, the customer gets that money. Yelp gets a cut of the sale; so does Empyr. It's Empyr's relationships with major credit card companies that allows it to track those purchases and share data with the businesses and publishers with whom it works.
A Challenging Space
Convincing those companies to partner up with Empyr wasn't easy, Carder said.
However, that drawn-out process presents a barrier to entry to the online-to-offline (O2O) rewards segment, reducing competition.
Some competitors have been snapped up recently as the market consolidates.
Last year Nashville card-linked offers company Edo International was acquired by Auego, a Minnesota company that provides consumer and employee engagement and incentive programs, and Cartera Commerce, based in Massachusetts, was acquired by San Francisco headquartered loyalty marketplace Ebates.
Empyr launched its platform 2½ years ago. In the first quarter of 2018 alone, Empyr added two million cards. Fewer than 500,000 cards were linked in the same quarter one year prior.
"With Mogl, I don't even think we added a million cards in five years," Carder said.
Wilbur said Empyr's technology can show companies the direct impact their digital ads are having on sales — something that has proved elusive, even for companies such as Google and Facebook. "The unique aspect of Empyr's positioning is its ability to observe the results of an online ad in the offline world., which is something that is really important for the digital advertising industry," Wilbur said. "I wouldn't say it's the only interesting solution out there, but it looks like potentially a very successful one."
O2O Tracking
Carder said the company's ability to show a direct link between online activity and offline commerce is what's driving adoption.
"Starbucks spends tens of millions of dollars on online advertising, and they have no idea how much coffee that sells," he said. "They can't judge the success of their marketing in relation to revenue generated. On our platform, they know exactly how much."
That means Empyr can quantitatively demonstrate to companies the buying power of those using its rewards programs.
Interest is high. Carder said the company gets 50 "legitimate" leads daily, but only has the resources to respond to a handful. An approval process required by the credit card companies for each new platform to be powered by Empyr has contributed to its growing backlog.
Fintech Interest
Businesses with no offline presence are also signing up. Companies in fintech, a rapidly growing industry, are especially interested in the technology's potential, Carder said.
Two top U.S.-based personal finance apps, Stash and Acorns, are Empyr customers, and the company is in "active discussions" with others, including two run by major banks.
To handle its growth, Carder said he plans to double headcount at Empyr's 60-person office in the next 12 months. To get to unicorn status, the company will likely raise a third round of funding, he said.