Venter Retires as Chairman of Synthetic Genomics Board
Tuesday, August 14, 2018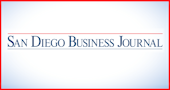 J. Craig Venter has retired as chairman of the Synthetic Genomics board, according to a company news release.
Venter co-founded Synthetic Genomics, part of his orbit of San Diego genomics organizations. The privately held biotech harnesses living cells to create medicines and bio-based products.
The news release states Venter is stepping down to focus on his work at the J. Craig Venter Institute, a nonprofit that Venter founded and recently returned to as CEO following his departure from Human Longevity this spring.
Human Longevity last month sued the institute, alleging that Venter took trade secrets, which the institute denied.

Venter will remain a scientific advisor to Synthetic Genomics.
In June, the company brought to the board Reinhard Ambros, previously global head of the Novartis Venture Fund.