A Tale of Two Well- Positioned Submarkets
Tuesday, August 14, 2018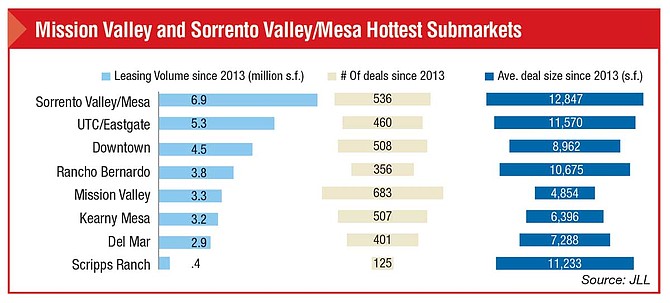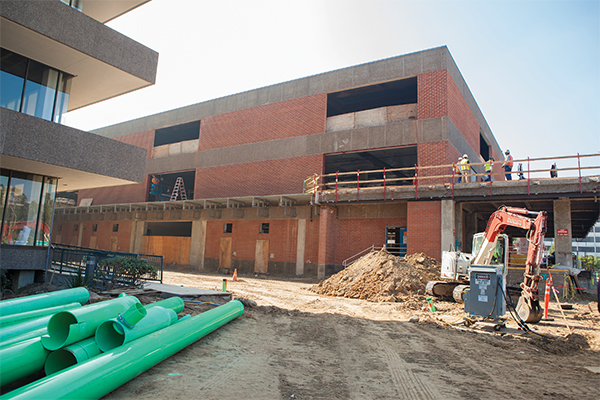 San Diego — For the past five years Mission Valley has been the hottest submarket in San Diego County for office space, racking up 683 deals.
When it comes to the size of office transactions since 2013, Sorrento Valley/Sorrento Mesa tops the list with an average of 1 million square feet of office space leased annually.
The average deal in Sorrento Valley/Sorrento Mesa also was larger than in any other submarket in the county at 12,847 square feet.
Those were among the findings in a recent market report by the commercial real estate brokerage firm JLL.
Mission Valley is in high demand because of its central location in the county and it has the highest number of deals in part because the available space is smaller than in some other submarkets, making it an ideal location for back-office tenants such as insurance firms, architects and companies working in the finance and defense technology industries that need smaller to midsize workplaces.
"Mission Valley is just a very diverse submarket," said Tim Olson, a managing director in JLL's San Diego office. "There's not as many large transactions that have happened."
The vacancy rate for office space among all classes averages right around 7 percent, and is not likely to change because demand is so strong, Olson said.
Completion later this year of Ampersand, the redeveloped San Diego Union-Tribune building, could push the Mission Valley office vacancy rate up to the low teens, but only in the short term, Olson said.
In addition to its location, Mission Valley also offers office tenants a strong pool of workers.
"Right now, with all the residential development that's gone on, it just continues to expand the employee population in that market," Olson said.
Mission Valley also has a strong concentration of amenities that help employers attract the skilled workforce they need, with two regional shopping malls, several strip shopping centers and a plethora of trendy restaurants.
Sorrento Valley/Sorrento Mesa also continues to be a robust submarket and is likely to surpass its historical average in 2018.
With the year already half over, Sorrento Valley/Sorrento Mesa has totaled about 950,000 square feet of leasing activity, according to JLL.
One reason companies are eyeing Sorrento Valley/Sorrento Mesa is that a high vacancy rate — 18.3 percent — means that rents are competitive.
The submarket also has large blocks of space.
Examples cited by JLL included American Specialty Health at 199,744 square feet, Sony at 120,000 square feet, and Plaza Mortgage at 55,138 square feet.