DEFENSE: 3 COS. COMING TOGETHER WILL HANDLE VARIETY OF ROLES
Merlin Teams Up to Expand Its UAV Services
Monday, August 13, 2018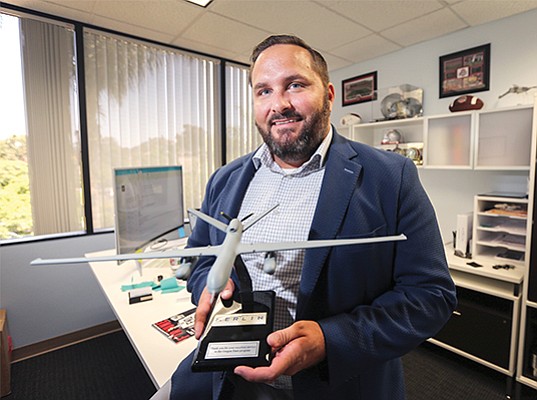 MERLIN GLOBAL SERVICES
CEO: Brian Raduenz
Revenue: $41.9 million in 2017; $28.3 million in 2016
No. of local employees: 43
Investors: Trive Capital of Dallas holds a controlling interest; the other partners are undisclosed
Headquarters: Solana Beach
Year founded: 2006
Company description: Defense contractor offering services related to manned and unmanned aircraft
San Diego — "Bob, 51 & Brian, 49, will start a company to support Big Safari and make things happen, with planning starting in 2007 and operations in 2008."
The story of Merlin Global Services begins with those words scrawled on a cocktail napkin with four signatures at the bottom.
Ten years later, in 2017, revenue at the Solana Beach firm grew 48 percent to $41.9 million.
Merlin deals in ISR. The three letters stand for "intelligence," "surveillance" and "reconnaissance." The U.S. military is buying ISR capability, and that is a central part of the growth story at Merlin.
A Service Provider
Merlin works with manned aircraft and the still-young technology of unmanned aircraft. The company doesn't make flying machines; it doesn't fabricate a thing. Rather, it is a service provider for the U.S. government and for large companies such as Sierra Nevada Corp., the Nevada-based defense contractor, and Lockheed Martin Corp. (NYSE: LMT). Its services include aircraft operations, maintenance, training and technical support.
"Anything that flies and carries a sensor, we touch," said Jeremy Watrous, the company's vice president of operations, adding he expects Merlin's revenue to grow an additional 25 percent to "north of $50 million" this year.
Even bigger things are ahead.
Combining With 2 Other Companies
Merlin inked an agreement to combine with two other companies — CSG Solutions of Fayetteville, North Carolina, and Special Operations Solutions (SOS) of Tysons Corner, Virginia — to offer a broader range of services using unmanned and manned aircraft. Financial terms of the deal, which closed Aug. 6, were not disclosed. The three will be grouped under the umbrella of Aevex Aerospace, which will be based in Solana Beach. Merlin's CEO, Brian Raduenz, will be CEO of Aevex.
Part of the plan is to operate a diverse fleet of small, manned aircraft. The goal is to be an end-to-end ISR services provider, Watrous said.
Air Force's Big Safari
Going back to the napkin, Big Safari is the U.S. Air Force office that deals with advanced technology and quick procurement.
In 2000, it hurried General Atomics Aeronautical Systems Inc.'s Predator aircraft into the field, and turned what had been an ISR aircraft into a remotely piloted missile launcher. It also created the system that let pilots on the ground in the United States fly the aircraft in places like Afghanistan and Iraq.
Today, when Poway-based General Atomics Aeronautical produces unmanned aircraft for the U.S. government, Merlin employees oversee the work on site. They act as the government customer's eyes and ears, in what the government calls an advisory and assistance services role. Merlin employees include flight test engineers, mechanical engineers, electrical engineers and various subject matter experts.
Merlin also gets work maintaining the high-tech sensors that go aloft with ISR aircraft.
The business has 235 employees in total, split evenly between its operations and maintenance divisions. There are about 50 employees spread throughout Southern California, in its own office, at government contractor offices and at military bases.
The operations division provides pilots for aircraft such as the remotely guided MQ-1 Predator and MQ-9 Reaper; and manned aircraft such as the A-29 Super Tucano from Embraer and Sierra Nevada; the PC-12 from Pilatus; and the Bell 412 helicopter.
Though they carry no one onboard, aircraft from General Atomics Aeronautical's Predator family need both a pilot and a sensor operator. The latter steers the camera-like sensor on the aircraft, following directions from the military customer. Both pilot and sensor operator sit at a ground station while flying their remote-control aircraft, connected only by a satellite link.
Pilots might work within the United States or be deployed to overseas hot spots for 60 days or longer.
Pilots who fly the remote-control aircraft tend to make more money working as outside contractors than as members of the military, Watrous said.
While many people at Merlin are U.S. Air Force veterans, Watrous goes against the grain. He was in the Marine Corps. He said that background gives him a rare perspective on what the end user needs.
Watrous joined the Marines out of high school, in 1998, as a diesel mechanic. The Marines gave him a chance to change jobs in 2003, and he became an imagery analyst, working in that field until 2011.
By now, unmanned aircraft are producing a glut of imagery that needs interpreting and processing. That is a specialty of CSG Solutions, one of the companies acquired by Aevex.
San Diego has long been Merlin's West Coast office. The company was originally based in Jacksonville, Florida, home of its first CEO. Merlin moved its primary office to San Diego County in 2014, about the time that Trive Capital of Dallas acquired a controlling interest in Merlin. Front-office functions such as human resources, security, finance and program management came to Solana Beach.
Inside the company, Merlin takes a page or two from motivational speaker and business guru Simon Sinek, who encourages his listeners to start with the "why" of a business. All priorities flow from that.
New employees get a copy of the pact that Raduenz and founder Robert A. Miller scrawled out on a cocktail napkin in 2006. It is printed, appropriately, on a 5-by-5-inch cocktail napkin.
CORRECTION: This story has been updated to reflect Robert A. Miller's title as founder.