Airspace Technologies Raises $8M For 'Next-Gen' Delivery Network, Software Platform
Monday, August 13, 2018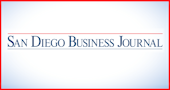 Airspace Technologies, a Carlsbad-based logistics startup, has raised $8 million in a Series A financing round.
The round was led by Defy, a Woodside-based venture capital firm that launched in 2017 after closing its first fund of $151 million.
CEO Nick Bulcao and Ryan Rusnak, chief technology officer, founded Airspace in 2015.
The company works with drivers, who are independent contractors, and airlines to transport goods. It specializes in packages that are time sensitive, such as human organs for transplant.
Its platform automates the process of planning shipments and allows shippers to communicate with customers in real time for their most critical shipments, the company said.
The 50-person company said it has more than 100 customers.
Airspace's Series A financing included participation from Qualcomm Ventures, the wireless giant's venture capital arm, Culver City-based Cross Culture Ventures and New York City-based Schematic Ventures.
The money will be used by Airspace to develop its next-generation delivery network and software platform, according to the company. Bulcao also said the company plans to add 40 new employees.
It's not Defy's first local investment: The firm, cofounded by longtime venture capitalists Neil Sequeira and Trae Vassallo, earlier this year led a $12 million round for Agentology, a San Diego startup that sources and pursues potential leads for real estate agents.
"We focus on backing experienced teams going after large markets being disrupted with deep technology," said Neil Sequeira, cofounder and managing director at Defy.
Reach reporter Sarah de Crescenzo at sarahd@sdbj.com.