ENERGY: COMPANY IS IN 'CONSTRUCTIVE' TALKS WITH ACTIVIST INVESTORS
Trade War May Complicate Sempra's LNG Plans
Sunday, August 12, 2018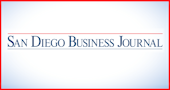 SEMPRA ENERGY
CEO: Jeffrey Martin
Revenue: $11.2 billion in 2017; $10.2 billion in 2016
Net income: $256 million in 2017; $1.37 billion in 2016
No. of employees: 16,046 companywide
Headquarters: Downtown San Diego
Year founded: 1998
Stock symbol and exchange: SRE on the New York Stock Exchange
Company description: Energy services holding company and parent to San Diego Gas & Electric Co.
San Diego — Sempra Energy's plans to build a liquefied natural gas (LNG) export business could get bogged down in a widening U.S.-China trade war, though Sempra CEO Jeff Martin struck a cautious tone while speaking with analysts about the prospect.
"At this point, it may be even premature to forecast the impacts of that," Martin said in an investor conference call last week, after the company released its second quarter financial results.
China announced plans Aug. 3 to put a 25 percent tariff on liquefied natural gas from the United States. Bloomberg News reported that China had not announced an effective date for the tariff.
China's LNG Future?
"LNG is an important part of China's future," Martin said. "We certainly see that as the key fuel that will help push coal off of their grid. And frankly, the United States will always be one of the lowest-cost suppliers. We think this bodes well for the future."
LNG exports are still more than a year away. Sempra (NYSE: SRE) expects the first three production lines of its Cameron LNG plant in Louisiana to be producing in 2019. After that, it is mulling projects to expand the Louisiana plant, export LNG gas from its plant near Ensenada in Baja California, and build out its Port Arthur, Texas, LNG export facility.
Q2 Results
Sempra, an energy services holding company, reported a net loss of $561 million, or $2.11 per share, on revenue of $2.56 billion in the second quarter ended June 30. However, charges related to asset sales dragged the financial results into negative territory.
They included a $755 million charge related to the planned sale of natural gas storage assets on the Gulf Coast and a $145 million charge related to the planned sale of U.S. wind investments. Had Sempra not put the charges on its books, the company said, it would have reported earnings of $361 million, or $1.35 per share.
In the second quarter of 2017, Sempra reported net income of $259 million, or $1.03 per share, on revenue of $2.53 billion.
Sempra is also selling its U.S. solar energy assets.

Asset sales are also on the minds of Elliott Management and Bluescape Resources Group, activist investors who own about 5 percent of Sempra. Elliott and Bluescape would like to see Sempra streamline its business model by selling more units and spinning off its LNG enterprise to shareholders as a separate business.
The Elliott partnership made its demands in June, calling on Sempra to immediately seat six board members of its choosing.
A representative of the investor group declined to comment on the second quarter financial results.
Martin told analysts that Sempra was still meeting with the activists and talks were "quite constructive." The most recent meeting had three Sempra board members and Martin meet with Elliott and Bluescape in their New York offices.
"I think all the conversations you'd expect us to be having, they're being had," the CEO said.
In other news, Sempra said:
• It completed equity offerings expected to raise $1.82 billion, which will complete financing for acquiring an approximate 80 percent stake in Texas utility Oncor Electric Delivery Co.
Sempra is issuing several types of stock. There are roughly $1.11 billion of common shares in forward sale agreements (to be settled by December 2019), some $166 million of common shares and $575 million in preferred stock. The latter is 6.75 percent mandatory convertible preferred shares in Series B.
• It recorded a charge of $22 million related to the Aliso Canyon litigation. Subsidiary SoCalGas runs the Aliso Canyon natural gas storage facility in the Los Angeles area. The underground storage area experienced a major leak which forced nearby residents to leave their homes.
(SoCalGas announced Aug. 8 that it agreed to pay $119.5 million in a legal settlement reached with the Los Angeles city and county governments, the state attorney general and the California Air Resources Board, to resolve all claims by the government against the company.)
• It is pursuing changes in California law on how much liability utilities have for wildfires.