Climate Curriculum Emphasizes Environment, Engagement
Sunday, August 12, 2018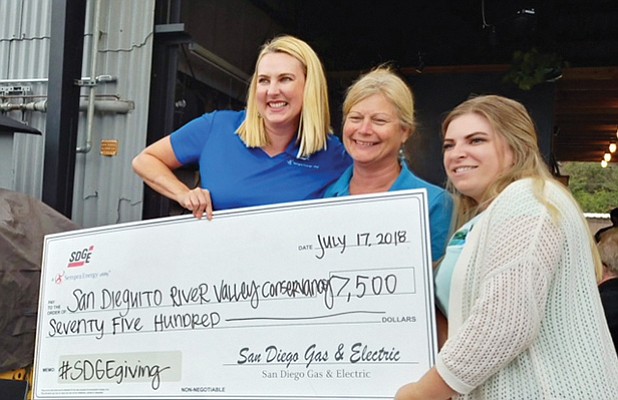 San Diego — The San Dieguito River Valley Conservancy was awarded $7,500 from San Diego Gas & Electric to support SDRVC's climate-science curriculum, "Microclimates on a Macro Scale," which is a part of the conservancy's Watershed Explorers Program.
Ana Lutz, education manager for SDRVC said: "Teaming up with the Climate Science Alliance, the conservancy will receive assistance with obtaining regionally specific climate data that will increase the depth of understanding of climate-change impacts on the different microclimates within our watershed. This data will serve as a cornerstone for the hiking and subsequent social media campaign components of the curriculum."
Students will be introduced to this climate- science program in the fall of 2018 at one of the local charter schools with whom SDRVC has a long-term relationship.
The Watershed Explorers Program is a partnership with the SDRVC, San Dieguito River Park, San Diego Archaeological Center, and Volcan Mountain Foundation. This free program includes transportation and supplies and serves as an invaluable experience that teaches students the importance of climate science and community change through civic engagement. Visit sdrvc.org.
• • •
The U.S. Department of Transportation's Maritime Administration, or MARAD, awarded a $392,037 grant to support capital improvements at Marine Group Boat Works in Chula Vista. Provided through MARAD's Small Shipyard Grant program, the funding supports capital improvements that foster increased efficiency and economic growth.
U.S. Transportation Secretary Elaine L. Chao said "These grants are an investment in our country's small shipyards like Marine Group Boat Works and will help create good jobs for America's workers."
Marine Group Boat Works is a family owned boatbuilding and repair company in Chula Vista that supports maritime commercial and government entities across the country. It will use the funds to purchase equipment to increase the yard's productivity and efficiency.
America's shipyards support more than 400,000 jobs and contribute more than $37 billion in gross domestic product to the nation's economy. Since 2008, MARAD's Small Shipyard Grant Program has awarded more than $183 million to more than 180 small shipyards. Visit marinegroupboatworks.com
• • •
George and Meryl Young, longtime community residents and volunteers, have been named honorary chairs of Boys & Girls Clubs of Carlsbad's 37th Annual "Young at Heart" Gala to be held at the end of September.
George Young is a national trustee for the Boys & Girls Clubs of America and said after he visited the two Carlsbad clubs he was "glad to join the board to contribute to the local club and enhance my perspective as a national trustee."
Meryl Young is a partner of Gibson, Dunn & Crutcher, focusing on securities, M&A, and other complex business litigation, and it is recognized as a leading securities litigator not only in California, but nationally as well.
The couple is also active in many other community and professional organizations.
• • •
The Jewish Federation of San Diego County has named Michael Jeser as its new CEO. Jeser will succeed Michael Sonduck, who retired in June after his 12-year tenure, including six years as CEO, with the organization.
Jeser joins San Diego's Federation after serving as director of financial resource development at the Jewish Federation of Greater Portland, where he handled the organization's annual and supplemental fundraising campaigns and also created its flagship leadership development and mentoring program for young Jewish leaders. Visit jewishinsandiego.org.
• • •
San Diego-based Guild Mortgage Co., one of the largest independent mortgage lenders in the U.S., has awarded 10 academic collegiate scholarships to students pursuing continuing education at schools in seven states.
Now in its second year, the Guild Giving Scholarship program awards financial assistance to qualified members of the community, as well as Guild Mortgage employees and their dependents. Winners are provided $1,500 to be applied to accredited colleges, community colleges, trade schools, and undergraduate and graduate degree programs in any field of study.
The scholarships are awarded through the Guild Giving Foundation, a nonprofit organization created by Guild to expand its community outreach efforts, part of the company's culture for more than 50 years.
Mary Ann McGarry, president/CEO said: "We are pleased to help these talented individuals pursue their educational goals and start paths toward promising careers in many different fields." Visit guildmortgage.com.
Send Kudos/Giving items to sglidden@sdbj.com.