Viasat Grows Revenue, Says More Expansion to Come
Thursday, August 9, 2018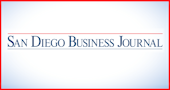 Viasat Inc. recorded a higher net loss — and higher revenues — in its latest quarter.
Revenues of $438.9 million were 16 percent higher than the $380 million in the same quarter one year ago. Viasat (Nasdaq: VSAT) closed the first quarter of its 2019 fiscal year on June 30. It announced financial results Aug. 9.
Net loss was $34 million, when calculated under generally accepted accounting principles or GAAP. Net loss in the year-ago quarter was $9 million.
The Carlsbad-based business also announced that, after the close of the quarter, it signed a contract with American Airlines to equip 100 new Airbus A321neo aircraft with its in-flight connectivity and Wi-Fi entertainment systems. Financial terms of the deal were not disclosed.
Viasat offers hardware and software for satellite communications, as well as satellite services. It sells to government, commercial and consumer clients.
Viasat attributed its net loss to spending on several projects. They included fixed-cost investments in network infrastructure for its new satellite, ViaSat-2, and expenses to market its consumer broadband services. The company's service territory expanded when ViaSat-2 went into commercial use.
Viasat also said it was investing in business infrastructure to support growth across all segments. The company said it anticipates rapid growth.
The Carlsbad business added in-flight connectivity systems to 122 commercial aircraft during the first quarter for a total of 757 aircraft equipped. When the quarter ended, the company was under contract to install systems on 854 more aircraft. (The figure does not include the American Airlines deal, reached after the quarter ended.)
Viasat's sales backlog was $1.6 billion in June 2018.