ENERGY: COMPANY AIMS FOR LESS WASTE, MORE SAFE, AND LESS EXPENSIVE MODEL
Portable Nuclear Power Reactor Program Advances at GA
Wednesday, August 8, 2018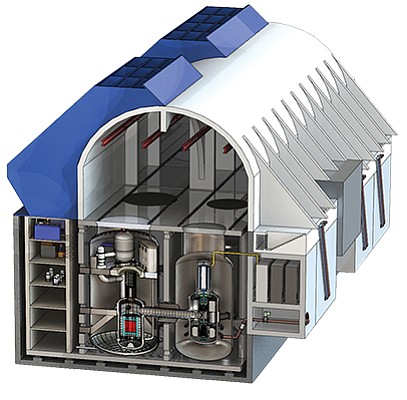 GENERAL ATOMICS
CEO: J. Neal Blue
Revenue: Undisclosed (private company)
No. of local employees: Approximately 10,000
Investors: Undisclosed
Headquaarters: Torrey Pines Mesa
Year founded: 1955
Company description: Diversified engineering firm and defense contractor
San Diego — Naysayers are nothing new for General Atomics.
While others say nuclear power is on the decline, the privately held company is betting on a vision of small reactors cooled by helium gas.
It's a long-term vision since GA's reactor design is not ready for commercial use. In fact, a basic component of the reactor — uranium fuel rods made from a novel ceramic material rather than conventional materials — needs to be proven in the lab and cleared by federal regulators. That process will take several years.
Energy Department Research Funds
Still, the project has advanced significantly in the five years since the Energy Department announced GA would receive research funds, said Christina Back, vice president for nuclear technologies and materials with General Atomics' Energy Group. In a 2013 interview, a GA executive said the company expected about $1 million for the project.
This comes as economic forces are making nuclear power less attractive in the United States.
A recently published paper put together with the help of a UC San Diego researcher predicts that a decline of nuclear power will take away an important tool to reduce carbon emissions during a critical time of global warming.
Nuclear Power's Aging Network
Nuclear power provides 20 percent of electricity in the United States, but it is going away. An aging network of nuclear plants, cheap natural gas and a lack of major federal funding are working together to make U.S. nuclear power less desirable, said the paper, published July 10 in Proceedings of the National Academy of Sciences. Ahmed Abdulla with UC San Diego's School of Global Policy and Strategy is a co-author.
The paper looks ahead to advanced designs which depart from conventional water-cooled reactors, but says no U.S. design will be commercialized before the middle of the century. Private industry has received more than $1.3 billion to develop new reactor concepts, though the paper argues the sum is not as impressive as it sounds.
$1.8B Cost
General Atomics — which is not mentioned in the paper — calls its reactor design Energy Multiplier Module, abbreviated EM².
It will take $1.8 billion to get first EM² reactor in shape for a demonstration run by 2030, said GA's Back.
Who will pay the bill? "We think it's an important collaboration and partnership with the government," Back said in a recent interview. "It is very difficult to have a company, even us, to make an investment in something that has that long a payoff."
GA envisions its reactor as a small, modular design, capable of being mass-produced in a factory and trucked to its final site. It is a departure from the massive reactors at the now-shuttered San Onofre plant in northern San Diego County.
GA's concept is to group four reactors, each generating 265 megawatts, to create a plant that generates about 1 gigawatt of electricity, enough to power 500,000 to 700,000 homes.
Instead of heating water for steam turbine, GA's reactor would heat gas, generating electricity with a gas turbine.
The fuel rods containing uranium would be made out of silicon carbide composite material — a ceramic which, according to General Atomics, can stand higher heat than conventional zirconium alloy.
Back showed a reporter machinery that weaves silicon-carbide filaments into a tube that looks like a braid of hair. The flexible, braid-like structure is then fused into a solid tube. Handling the silicon-carbide material is sort of like handling a cactus; spines too small to see are apt to stick in the handler's fingers.
Four Objectives
GA said it has designed its reactor with four objectives: to be safer than conventional reactors, to produce less nuclear waste, to be less expensive than conventional reactors and to better resist nuclear proliferation.
The journal article co-authored by Abdulla was funded by several sources, including UC San Diego, the Alfred P. Sloan Foundation, the John D. and Catherine T. MacArthur Foundation and the National Science Foundation.
GA's Back, who holds a doctorate in plasma physics, said she is not as pessimistic about the future of nuclear power as the authors of the journal article.
In addition to nuclear fission — the splitting of atoms — General Atomics is pursuing research into creating power from nuclear fusion, or the combination of atoms.