FINANCE: CONDITIONS SEEN AS CONTINUING THROUGH 2019
Both Sellers and Buyers Seeing Opportunity in Hot M&A Market
Tuesday, August 7, 2018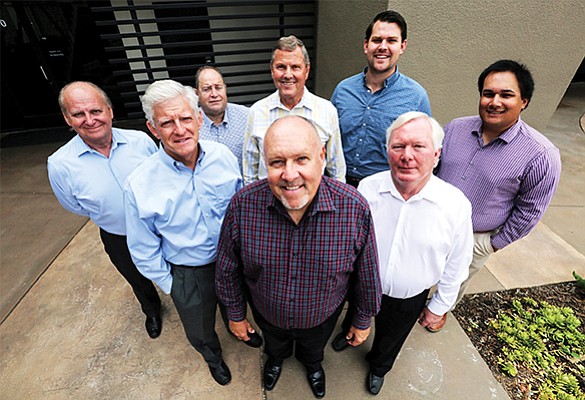 San Diego — A University City-based investment bank that advises companies on mergers and acquisitions has beefed up its roster in expectation of a surge of M&A activity.
Shoreline Partners LLC, founded by Phil Currie in 1992, works with lower middle market companies throughout the West looking to sell a stake in a privately held company.
SHORELINE PARTNERS LLC
Managing partner: Tim Malott
Revenue: Would not disclose; projected to be 50 percent higher in 2018 than in 2017
No. of local employees: 8
Headquarters: University City
Year founded: 1992
Company description: Investment banking and M&A advisory firm for lower middle market companies
Tim Malott, the firm's managing partner, said he has already seen an uptick in deals, and that he believes volume will continue to increase for at least the next 12 months.
He's in good company: Deloitte in September 2017 surveyed about 1,000 executives at corporations and private equity firms about their take on M&A activity to come in 2018. The respondents, which came from across 18 industries, were involved in M&A at a firm with annual revenues of at least $10 million.
The majority said they expected the deal flow and size to increase compared with 2017.
The impetus behind the intensification of deal flow, Malott said, is twofold: baby boomers who are looking to retire, and younger business owners looking to diversify their risk by banking some of the value they have created.
"People have been talking for years about a 'perfect storm' of M&A activity," he said.
It started, Malott believes, after the 2016 presidential election.
"I don't know that it was due to whichever (candidate) got elected. It was more that then people would say, at least now we have a direction," he said. "Opportunity has really started flowing a lot more quickly since that point in time."
Compared with a Deloitte survey in fall of 2016, a smaller percentage of respondents were worried about top potential deal obstacles — global economic uncertainty, capital market volatility, deal valuations and interest rate concerns — than respondents to the 2017 questionnaire were.
Another factor Malott believes will continue to drive the increase in M&A activity is the record amounts of money raised by strategic companies and private equity groups, which will need to be deployed through investments in companies and new business ventures.
The combination of drivers inspired Malott to bring in six new people to the firm in the past 18 months. He anticipates the firm's revenue in 2018 will be 50 percent higher than it was in 2017.
This year alone Malott added to the firm's lineup of managing directors Mickey Welcher, who works with technology and life sciences companies to raise capital, Jay Carter, John Homan and Malott's oldest son, Dan, who lives in North Dakota and is sourcing opportunities in the Midwest.
Previously the firm had three people conducting business, including founding partner Currie, who is no longer working at the firm full time.
Local deals on which the firm has recently advised included Cali Bamboo's sale of a majority interest to High Road Capital Partners and the acquisition of Vista-based Electrical Sales Inc. by Winsupply Inc., an Ohio-based distributor.
Malott said he estimates the current active M&A environment will remain so at least through the end of 2019.
"In a typical year we'd close four to six transactions," he said. "If I look at the next 12 months, I would expect it will be double that based on where we're at right now — and that's not even considering other engagement proposals we have outstanding right now."