TECH: GOVT. AND COMMERCIAL MARKETS KEEP COMPANY BUSY
Space Micro Inc. Sees Its Stars Align in Markets
Sunday, August 5, 2018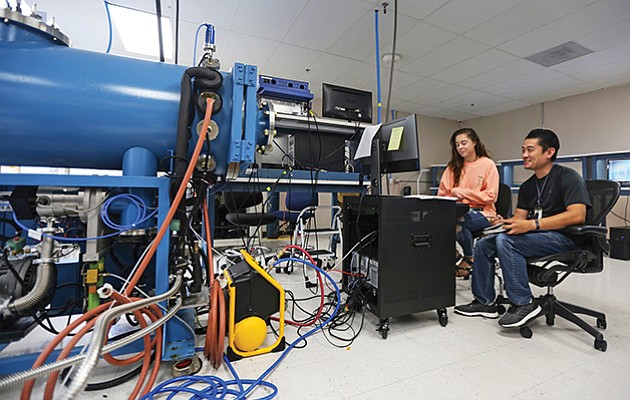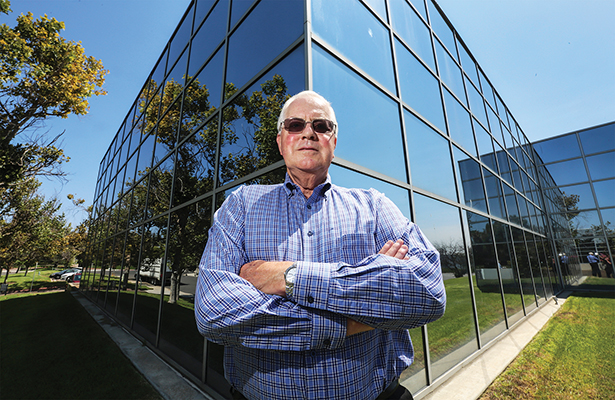 SPACE MICRO INC.
CEO: David J. Strobel
Revenue: $26.72 million in 2017; $18.6 million in 2016
No. of local employees: About 100
Investors: The employee owned company has 88 shareholders
Headquarters: Mira Mesa
Year founded: 2002
Company description: Maker of electronic systems that go aboard satellites
San Diego — Some days are simply good beach days; a variety of earthly forces align and the waves turn out to be perfect.
San Diego-based Space Micro Inc. seems to be experiencing the business equivalent of such an alignment.
The builder of satellite electronics experienced 44 percent expansion from 2016 to 2017, growing from $18.6 million to $26.72 million in sales. Half of last year's sales went to commercial clients, while 20 percent went to NASA and 30 percent went to the U.S. Department of Defense.
The third and fourth quarters of the year will be particularly good for picking up business, said company CEO David Strobel.
The defense budget for 2018 was signed in March, roughly six months into the fiscal year. No new projects were allowed to start before the budget was signed. The Pentagon is now under pressure to get companies under contract by Sept. 30, the end of the fiscal year, Strobel said.
In 2019, it looks as though Congress will get a budget passed early.
By Strobel's estimation, strong Defense Department and NASA funding is one of three things giving Space Micro its momentum.
A Commercial Space Market
Another tailwind is that Space Micro is slowly becoming an established business. Space tends to be a "conservative market," the CEO said, where buyers look skeptically at newcomers. The company has been in business 16 years, and its electronics have operated in space for a total of 600,000 hours. Large prime contractors and government officials figure "these guys are here to stay," Strobel said.
A third tailwind is the commercial space market. Private companies funded by venture capitalists or run by tech company personalities are venturing into orbit with satellite projects: think Elon Musk's SpaceX, Jeff Bezos' Blue Origin or Richard Branson's Virgin Group.
Unlike government customers, the private sector is very sensitive about cost, Strobel said, adding Space Micro can serve private enterprise better than established space companies (think big defense contractors) because the big players are not quite as nimble.
Strobel said he would like to exceed $60 million in annual revenue in the next three years.
Chief Operating Officer David R. Czajkowski and his other executives get a lot of credit for the company's growth, Strobel said. "Space Micro is far from a one-man show as we have a very strong eight-person senior manager team." There are roughly 100 employees.
Ruggedized Hardware
Space Micro makes ruggedized satellite hardware, including computers and transponders. It recently introduced laser communication components. The products must be able to survive the vibrations of space travel, the thermal extremes and the radiation of space. The company has two patents for adapting commercial, off-the-shelf components to space.
As the years have passed, Space Micro has concentrated more on standardized products, favoring those over custom work.
The business has its share of classified projects that Strobel can't talk about. Then there are the high-profile projects. Space Micro electronics are on board TESS, NASA's satellite that is studying the light of surrounding stars for telltale signs of planets. A slight and temporary decrease in brightness is a clue that a planet is passing in front of a star. TESS, which stands for Transiting Exoplanet Survey Satellite, began two years of data collection in late July.
Plans to Move
With all of its expansion, Space Micro has outgrown its building space in Mira Mesa. The business plans to move during the first quarter. Strobel wouldn't say where.
It won't be one of the states that covet California businesses. Strobel said he plans to stay in San Diego because the region has the talent he needs, including college interns that Space Micro frequently invites to stay to begin a career.
Today, many engineering students already have experience working with small satellites.
Strobel declined to talk about salaries at his company but said Space Micro pays "market rate." The average engineering salary is "well over $100,000," he said. A good engineer fresh out of a good school stands to receive $70,000 a year, he said.
Another benefit of San Diego is that it's a place clients like to visit. In-person consultations tend to happen just before or after a weekend.
A Sale in the Future?
When the time is right, Strobel said, he would like to sell the company. That is at least one to two years in the future.
Space Micro is employee owned, with 88 stakeholders. That should be no surprise, since Strobel once worked for J. Robert Beyster, who ran the original version of Science Applications International Corp. While secretive about his projects, Beyster preached the concept of employee ownership to the world.
Employee ownership gives shareholders an incentive to work hard, Strobel said, but the business model presents challenges. Everything must be bootstrapped; outsiders can't take equity. The employee-owned model also does not let owners cash out whenever they would like.
Space Micro is "moving up the food chain" of the satellite world, Strobel said. Where customers once ordered single subsystems, today they bundle multiple subsystems. The business provides CubeSats, which are as big as a bread boxes, and has its eye on providing refrigerator-sized models.