San Ysidro Recognizes Health Champions' Role in Ensuring Care
Sunday, August 5, 2018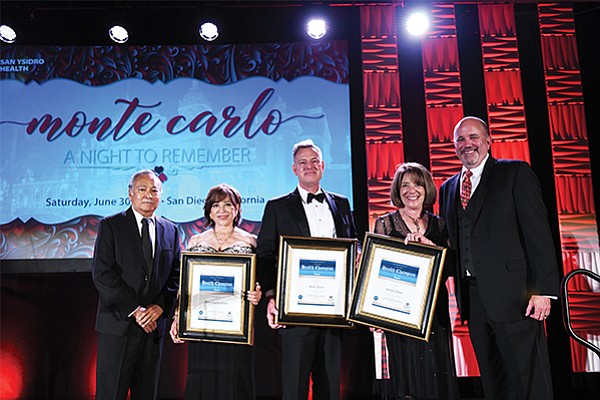 San Diego — San Ysidro Health held its annual gala, "Monte Carlo: A Night to Remember" recently at the Hilton San Diego Bayfront. The event hosted 600 guests and raised $400,000. Proceeds from this year's gala will help the organization continue to provide high-quality, compassionate health services to patients across San Diego County.
The annual Health Champion awards were presented to Chula Vista Mayor Mary Casillas Salas, Congresswoman Susan Davis and Congressman Scott Peters for their tireless dedication to protect funding for essential health care for San Diego County's families that need it the most.
More than half of San Ysidro Health's patients are children and seniors. Funds raised will help San Ysidro Health provide an additional 14,000 pediatric health screenings, as well as allow 300 medically fragile seniors to age safely in the communities we serve, and give family caregivers the time to work.
"We would like to thank our dedicated community supporters who helped make this event possible," said Kevin Mattson, president/CEO, San Ysidro Health. "We are committed to continue to provide essential services to the 95,000 lives in our care and help them reach their best health potential so they can thrive in the communities we serve." Visit syhealth.org.
• • •
Hormel Foods Corp., in partnership with Albertsons and Vons stores, donated 24,840 units of Skippy peanut butter to the Jacobs & Cushman San Diego Food Bank to support its School's Out, Hunger's Not Summer Food Drive.
The Schools' Out, Hunger's Not Summer Food Drive targets children living in poverty who stop receiving free meals at school when school is out for summer and often face hunger at home. In many cases, families are forced to rely on the food bank to feed their children over the summer months.
Aly Sill, brand manager at Hormel Foods said: "The Skippy hunger program highlights our long-standing relationship with Albertsons and Vons, and we are honored to work together and make a contribution for those in need."
Shane Dorcheus, president of Albertsons Cos. Southern California Division, which operates Albertsons, Vons, and Pavilions stores throughout the region said: "We hope this donation will help make the summer a little more enjoyable for individuals and families in need."
James Floros, president and CEO at Jacobs & Cushman San Diego Food Bank said the donation is a huge support for the Food Bank and that "... Peanut butter is gold in the food banking world because it is a remarkable source of protein for the children we serve. It is shelf stable and one jar can provide more than 12 sandwiches."
The program involves a partnership between Hormel Foods and grocery retailers across the country, and is part of the company's philanthropic efforts that focus on hunger and education. In fact, in 2016, Hormel Foods donated $10.9 million in cash and product donations.
• • •
Kids4Community is recruiting kid volunteers to help homeless kids with their homework and academics. The local nonprofit's mission to help children and their families give back to their communities in a meaningful way. To do this, it works with charitable organizations to develop programs that are specifically meant to engage children ages 5 years and up so they can be introduced to the concept of charitable work early in their lives. When kids are taught from an early age about the benefits of charitable work, they will carry that forward into their teen and adult lives. Not only does it benefit the charities they work with, it benefits the children themselves as they transition into young adults.
The program will be implemented starting this next school year. Kids4Community is in planning stages for their big Back2School event on Sept. 2 at Perkins Elementary school. The school provides education for homeless kids mostly and the Back2School event will help those kids. They are elementary and middle schoolers. Kids4Community will be bringing the community together to pack supplies for the 400 kids that go to school there. Register at kids4.org.
Send Kudos/Giving items to
sglidden@sdbj.com.