From Personnel To Systems, Spending Is Likely To Deliver For San Diego
Sunday, August 5, 2018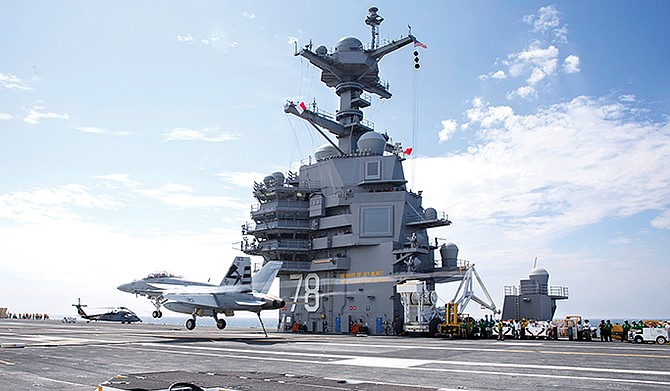 San Diego — A just-passed, 1,322-page spending bill will let the U.S. Navy buy its fourth next-generation aircraft carrier, more Triton unmanned aircraft, a ship that doubles as an offshore military base and much more.
The National Defense Authorization Act passed the House and Senate. A companion defense appropriations bill is making its way through Congress. Both foreshadow Pentagon dollars flowing into San Diego County in the coming year.
The act calls for $717 billion in spending for the Defense and Energy departments during fiscal 2019, including a war-fighting budget of $69 billion. (In Pentagon lingo, that is called Overseas Contingency Operations.)
The House approved the bill July 26 on a 359-54 vote.
Troops are in line for a pay raise of 2.6 percent, which will be felt in San Diego County neighborhoods that serve sailors and Marines.
The House-approved budget calls for buying a fourth Gerald R. Ford-class aircraft carrier. The yet-to-be-named carrier, known as CVN-81, is designed to carry electromagnetic catapults and advanced arresting gear from San Diego's General Atomics (see related item). Congress wants a "block buy" of CVN-81 with the carrier before it, the future USS Enterprise.
The authorization bill calls for 77 F-35 Joint Strike Fighters. Northrop Grumman Corp. (NYSE: NOC) is a subcontractor on the program. It assembles radio components for the fighter in a North County suburb.
The bill calls for $544.8 million for Triton aircraft, a seagoing version of Northrop Grumman's autonomous Global Hawk spy plane. Northrop Grumman runs the program in Rancho Bernardo.
Some $60 million of improvements to General Atomics Aeronautical Systems Inc.'s Gray Eagle unmanned aircraft are part of the bill, according to a statement from the House Armed Services Committee.
The bill authorizes $2.8 billion to buy parts for all kinds of military aircraft. That is good news for prime contractors GA-ASI and Northrop Grumman, major component makers UTC Aerospace Systems in Chula Vista and GKN Aerospace of El Cajon, and an assortment of small parts makers in Southern California. Some $92 million of the $2.8 billion total will go toward parts for the F-35 Joint Strike Fighter.
The budget includes $977.1 million for the next-generation oiler, a Navy auxiliary ship that refuels fighting ships at sea. Also included is $647 million for the sixth in a series of Expeditionary Sea Base ships, a 784-foot-long military base at sea with a tanker-like hull and a distinctive flight deck. General Dynamics NASSCO (NYSE: GD) plans to build both at its Barrio Logan shipyard.
The authorization bill bans certain overseas companies from Pentagon work. The provision "prohibits any U.S. government agency from using risky technology produced by Huawei or ZTE," which, according to a statement from the House Armed Services Committee, are "linked to the Chinese Communist Party's intelligence apparatus."
The committee report also decries a shortage of pilots that is "hampering readiness in every service."
It also noted that adversaries are beginning to outpace U.S. capabilities in cyberwarfare and electronic warfare. The Pentagon must "synchronize and unify" its efforts, the summary said.
The last topic is of particular concern to San Diego: Cybersecurity is one of the main tasks assigned to SPAWAR, the locally based Space and Naval Warfare Systems Command.