#4 Fastest Growing Private Company
Thursday, August 2, 2018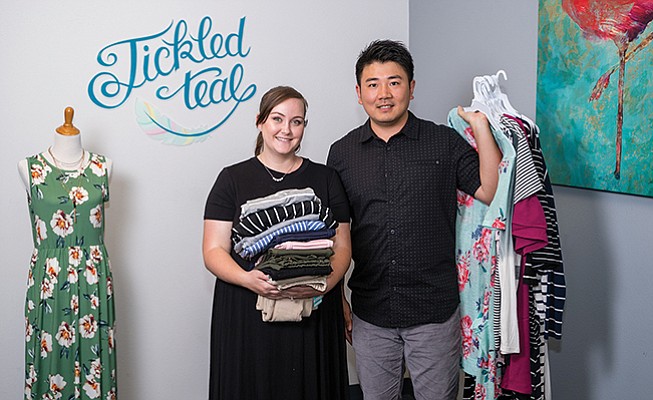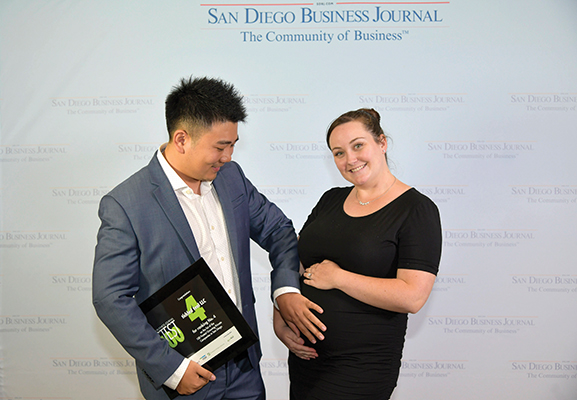 Tickled Teal
Co-founders: Sean Zhao and Renee Loomis
Location:
9080 Activity Road, Suite B
San Diego 92126
2017 Revenue: $4.41 million
2015 – 2017 Growth: 579 percent
No. of Local Full-time Employees: 4
Website: www.tickledteal.com
San Diego — Sean Zhao and Renee Loomis, the husband and wife duo behind the San Diego-based e-commerce shop Tickled Teal LLC., aren't afraid of reinvention.
Since founding their shop in 2014, Loomis, who has a graphic design background (San Diego State University, 2011), and Zhao, who has an e-commerce degree from SDSU (2012), have shifted the focus of their online store numerous times to keep up with consumer trends.
"We started to sell coffee mugs on Etsy in 2014 — she would design the graphics, we would apply the design to blank mugs and we would ship them," said Zhao, who is the company's CEO and co-founder. "But the mugs were expensive to ship and would sometimes break. So, later that year, we expanded to T-shirts, specifically graphic tees, that she also designed the images for and I would put that on blank tees. Then that market became saturated. So, in 2016, we switched gears to apparel."
Since then, Tickled Teal has concentrated less on graphic design and more on fashion design, which Loomis and Zhao get from wholesale clothing manufacturers in China and distribute from their 5,000 square feet Miramar headquarters.
With this latest niche, the company has seen significant sales growth. In 2014, Tickled Teal made $350,000 in revenue and in 2015, $650,000. In 2016, when the company transitioned from mugs and tees, it grossed $2 million. And, in 2017, that number more than doubled to $4.4 million. This year, Zhao says he expects the business will make close to $8 million.
"The trend of e-commerce and people shopping online — it will only grow from this point on," said Zhao, adding that apparel is light-weight, making it easy and inexpensive to ship. "There is a lot of competition, but, at the same time, the pie is very big. So, even if we get a tiny portion of the market share that is still a lot of sales for us."
In addition to the stateside location, which has five employees, Tickled Teal also has a warehouse near Hong Kong, with a partner which helps them run the operation. Its clients include boutique stores around the country, and they also sell on Zulily, a clothing, toys and home products e-commerce company based in Seattle, Washington, as well as Amazon.
The business ships its products through Los Angeles ports, by air and sometimes by ships.
What's next for the pair? Zhao says the two hope to expand Tickled Teal by adding more online sites to their lists of clients and getting more wholesale accounts nationally. As for what they will sell, the plan is to stick with apparel for now... at least until a new trend comes along.