Synthorx Raises $63 Million in Series C Round
Monday, April 30, 2018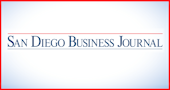 San Diego-based Synthorx — formed around synthetic biology for novel protein therapies — raised $63 million in a Series C round.
The round was led by led by OrbiMed and joined by new investors, Medicxi and Osage University Partners, as well as existing investors, Avalon Ventures, RA Capital Management, and Correlation Ventures.
In addition, Peter Thompson, private equity partner at OrbiMed, and Vickie Capps, an independent advisor, will join the Synthorx board of directors.
The financing will go toward Synthorx's pipeline of synthorin cytokines, which activate tumor-fighting immune cells.
"The ability to activate tumor-fighting immune cells has been a tremendous breakthrough in curing cancer in some patients, but the rate of responses leading to long-term remission and overall survival is still limited," Synthorx CEO Laura Shawver said in a news release.
"Our investors immediately recognized the remarkable ability of our lead molecule, Synthorin IL-2, to deliver sustained cancer-killing activity without the safety liability through our unique ability to modify protein therapeutics for tuning receptor pharmacology and extending half-life."
Synthorx was founded in COI Pharmaceuticals, the incubator-like venture studio headed up by venture capital firm Avalon Ventures.