San Diego Tech Cos. Tapped for Department of Homeland Security Group Tour
Monday, April 30, 2018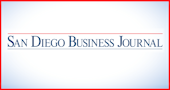 Nine tech companies in San Diego were slated to receive about 30 government and military representatives over a two-day tour intended to highlight the region's technological innovation, particularly in cybersecurity.
Locally based companies set to receive the delegation included publicly traded stalwarts such as Qualcomm and Illumina, and venture-backed firms such as AttackIQ, MindTouch and Brain Corp. Also on the docket were Ausgar Technologies, a local firm, and Unisys, FICO and Webroot, which are based outside of San Diego but have a local presence.
The company visits, scheduled for April 30 and May 1, were coordinated by San Diego's Cyber Center of Excellence (CCOE), an industry group, and San Diego Regional Economic Development Corp. The EDC, a nonprofit organization, aims to maximize the region's competitiveness; it is funded by more than 160 local companies and organizations.
Leading the group of visitors was the Department of Homeland Security's John Zangardi, the agency's chief information officer.
"Visiting tech companies across California – including San Diego and a few locations across Silicon Valley – is part of the department's strategic outreach to industry," Zangardi said. In a statement about the visit, he said his "strategic objectives" - moving the DHS network to a managed service, consolidating its security operations centers and moving to the cloud - need industry backing.
The tour was a component of the Secure San Diego initiative, a effort by the CCOE and the city of San Diego to position the region as a "global hub" of cybersecurity innovation.

Reach reporter Sarah de Crescenzo at sarahd@sdbj.com.