Industrial Demand Works for Landlords As Rents Go Up, And Vacancy Goes Down
Thursday, April 26, 2018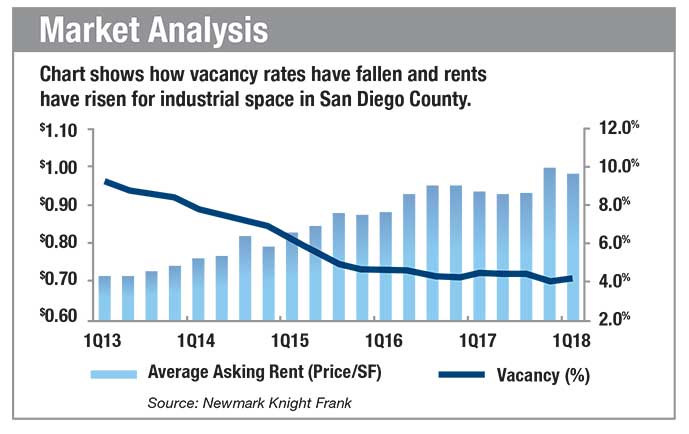 San Diego — Mirroring what's happening in the market for office space in San Diego County, demand for industrial space in the region is outstripping supply, driving rents to levels not seen since before the Great Recession and vacancy rates to near or at record lows.
Reports out this month for the first quarter of 2018 from Newmark Knight Frank, Kidder Mathews, Cushman & Wakefield, CBRE and Ten-X Commercial, among others, confirm the same trend and predict it's likely to continue throughout the year.
"The vacancy rates in the core markets are almost down to zero — one to 3 percent in areas like Kearny Mesa, Miramar, Poway, and places like that," said Bob Willingham, senior vice president of Kidder Mathews.
"In certain segments, say large blocks of space, 50,000 square feet or 100,000 square feet, you may have one or two options in central San Diego. A lot of those are lower clear height, they may not have the upgraded fire sprinklers that are being required," Willingham said. "Tenants are being forced to move where there's availability, and that's basically North County and Otay Mesa."
Even in those submarkets, there are few bargains when it comes to rent.
"Rents on any of the new buildings outside of Otay Mesa are going to be north of 90 cents a square foot," Willingham said. "Even in Otay, you're going to be in the high 70s."
Tenants renewing leases they signed five or six years ago on industrial space are likely to face rents 30 percent to 50 percent higher than they originally paid, Willingham said.
Newmark Knight Frank reported that the average rental rate for industrial space in San Diego reached 98 cents per square foot, which the firm said is 4.3 percent higher than a year ago and a 38 percent increase over the past five years.
"San Diego is an appealing market for industrial property for investors, thanks to its judicious supply pipeline and healthy demand, which have brought vacancies to a 20-year low," Ten-X Commercial said in its first quarter review of San Diego County's industrial market.
"Year-over-year rent growth has neared the 5 percent mark in recent years and rents are projected to reach all-time highs this year," according to Ten-X Commercial.
Demand is so high for industrial space that tenants are signing up to rent space in new buildings well before the buildings are finished, in some cases well before construction has even started.
Prev Next