HEALTH: REVENUE NEEDS, MARKET TRENDS PUSH CHANGE
Outpatient Sites Become A Central Part of Care
Wednesday, April 25, 2018
San Diego — San Diego hospitals are thinking small.
Hospitals in the last few years boosted investment in modest freestanding centers for surgery, imaging and other services, vying for patients seeking convenience and lower costs. The facilities are found on hospital campuses, as well as scattered throughout the region to reduce patient commutes.

"Historically having scale is important. Now having access is important," said James Bush, a principal with Deloitte Consulting's health care and life sciences consulting practice.
Investing outside hospital walls, while nothing new, took on greater fiscal importance as inpatient volumes softened in recent years. For Sharp HealthCare, outpatient services accounted for 45 percent of revenue in 2017, up from 32.3 percent a decade earlier.
Need Greater Outpatient Volume
The pivot away from huge hospitals requires a balancing act. Health systems command less revenue in satellite facilities than hospitals, a difference they must make up through greater outpatient volumes and lower freestanding facility overhead costs.
It can be tough to gauge the strategy's long-term impact on the bottom line due to a lack of studies, but Bush said typically hospitals have little choice given market trends. "Knowing that you're not going to get reimbursed the same way, the only way to keep your numbers up is to have more volume."
Scripps Health succeeded on the volume front. Outpatient visits hit 2.44 million in 2016, an increase of 16.3 percent from four years prior. The increase comes amid Scripps inpatient numbers falling 2.2 percent to 68,798 during this span.
"We've been on this strategy for quite a few years, but every year it has stepped up quite a bit, exponentially," said Lisa Thakur, Scripps' corporate senior vice president of ancillary operations. Thakur is charged with moving certain services out of hospitals and into freestanding Scripps sites.
Along with five acute care hospitals, Scripps has 27 outpatient centers and clinics, home health care services and hundreds of affiliated physician offices. Outpatient facilities opened in greater numbers in the last five years compared to the preceding period, according to Thakur.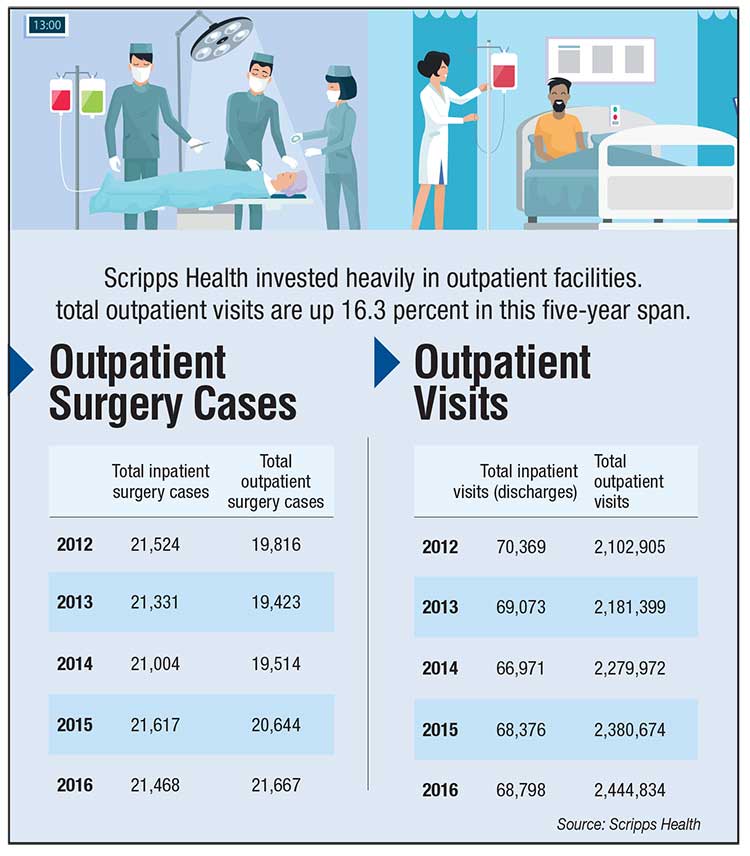 Insurers Drive Trend
She said insurers, which increasingly refuse to cover certain hospital services, drove the trend.
For example, an Anthem policy — expected to take effect later this year in California — steers outpatient MRIs and CT scans to freestanding imaging center. The goal: lower costs.
The median network rate of a limb MRI in California is $444 at a freestanding center, about one-third of a hospital charge, according to consumer health care company Amino.
Prev Next