HEALTH: REVENUE NEEDS, MARKET TRENDS PUSH CHANGE
Outpatient Sites Become A Central Part of Care
Wednesday, April 25, 2018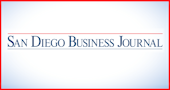 San Diego — San Diego hospitals are thinking small.
Hospitals in the last few years boosted investment in modest freestanding centers for surgery, imaging and other services, vying for patients seeking convenience and lower costs. The facilities are found on hospital campuses, as well as scattered throughout the region to reduce patient commutes.

"Historically having scale is important. Now having access is important," said James Bush, a principal with Deloitte Consulting's health care and life sciences consulting practice.
Investing outside hospital walls, while nothing new, took on greater fiscal importance as inpatient volumes softened in recent years. For Sharp HealthCare, outpatient services accounted for 45 percent of revenue in 2017, up from 32.3 percent a decade earlier.
Need Greater Outpatient Volume
The pivot away from huge hospitals requires a balancing act. Health systems command less revenue in satellite facilities than hospitals, a difference they must make up through greater outpatient volumes and lower freestanding facility overhead costs.
It can be tough to gauge the strategy's long-term impact on the bottom line due to a lack of studies, but Bush said typically hospitals have little choice given market trends. "Knowing that you're not going to get reimbursed the same way, the only way to keep your numbers up is to have more volume."
Scripps Health succeeded on the volume front. Outpatient visits hit 2.44 million in 2016, an increase of 16.3 percent from four years prior. The increase comes amid Scripps inpatient numbers falling 2.2 percent to 68,798 during this span.
"We've been on this strategy for quite a few years, but every year it has stepped up quite a bit, exponentially," said Lisa Thakur, Scripps' corporate senior vice president of ancillary operations. Thakur is charged with moving certain services out of hospitals and into freestanding Scripps sites.
Along with five acute care hospitals, Scripps has 27 outpatient centers and clinics, home health care services and hundreds of affiliated physician offices. Outpatient facilities opened in greater numbers in the last five years compared to the preceding period, according to Thakur.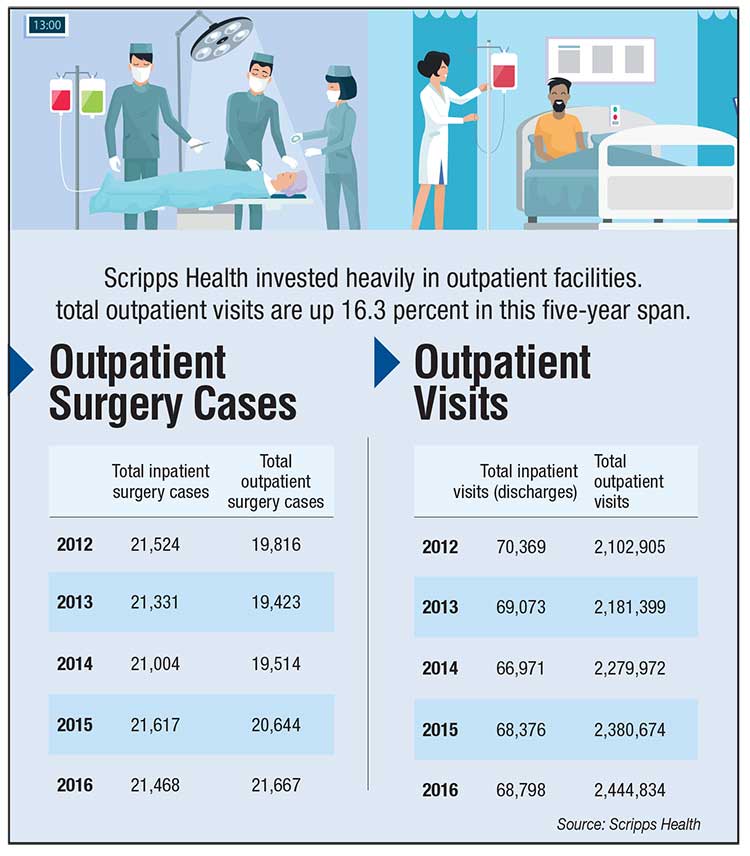 Insurers Drive Trend
She said insurers, which increasingly refuse to cover certain hospital services, drove the trend.
For example, an Anthem policy — expected to take effect later this year in California — steers outpatient MRIs and CT scans to freestanding imaging center. The goal: lower costs.
The median network rate of a limb MRI in California is $444 at a freestanding center, about one-third of a hospital charge, according to consumer health care company Amino.
Insurers and Medicare pay hospitals less for outpatient procedures. On the flipside, freestanding centers, unlike hospitals, don't require steep overhead for licensing, specialists and all-hours operations. Facilities costs run much lower, too.
Given the tradeoff, what's the effect on the balance sheet? Thakur said it should amount to a net positive as Scripps moves toward a capitated financial model, which emphasizes outcomes and efficiency.
The most visible sign of Scripps ramping up out-of-hospital investment: two-year-old John R. Anderson V Medical Pavilion, the first in California that offers outpatient catheterization, among other procedures. The 175,000-square foot facility is part of Scripps La Jolla medical campus.
In another major outpatient move, Scripps in 2015 bought Imaging Healthcare Specialists, which included eight independent centers in San Diego and Riverside counties.
In contrast, UC San Diego Health has placed a greater emphasis on onesie-twosie joint ventures in outpatient care facilities in the region, according to Brendan Kremer, the system's chief administrative officer of operations.
Last year, 28 percent of UC San Diego Health surgeries came in a nonhospital setting. The number is set to increase with last month's debut of the Koman Family Outpatient Pavilion, a 156,000-square-foot facility that includes eight surgery suites, imaging, physical therapy and pain management services.
The facility is geared toward patients who don't need an overnight stay.
Not Always the Best Fit
Kremer stressed that outpatient centers aren't always the best fit. UC San Diego Health hospitals boast state-of-the-art technology — critical for cancer patient imaging, for instance.
"We need to be able to provide imaging in the community that meets the needs for the vast majority of care, and we also need to be able to provide that high-level, high-quality, super sub-specialized imaging we do in the hospital," he said.
Satellite facilities put hospital systems near patients' homes and workplaces, a convenience factor that could strengthen loyalty.
"You don't need to drive 15 miles into La Jolla to have a basic MRI," said Kremer.
The increased prevalence of freestanding centers led to an industrywide reconsideration of renovation and expansion plans. With more and more satellite facilities popping up, stripped-down hospitals are becoming the norm.
Telemedicine
Impacting long-term construction planning, Kaiser Permanente San Diego's outpatient discharges came to 4.8 million in 2017, up 19 percent from four years earlier.
Kaiser's capital planning is made even trickier by the fact that it's on the forefront of telemedicine, another wrinkle of care beyond hospital walls.
"We're looking at what telephone and virtual visits will do because the more we enhance that piece, the less face-to-face visits you'll need. So we want to make sure we're right-sizing our buildings," said Veronica Dela Rosa, assistant medical group administrator with Kaiser San Diego.
Face-to-face accounted for the lion's share of Kaiser San Diego visits in 2017, with telephone and virtual consults fast rising. Telephone made up 6.9 percent of encounters in 2017, versus 4.8 percent in 2016 and 3.5 percent in 2015.
Exploring Partnerships
Palomar Health is exploring joint partnerships with existing freestanding centers, anticipating the migration of profitable imaging and surgery services to such facilities. This would allow Palomar to keep a piece of the revenue, and avoid costly construction.
"Whatever we can do to provide treatment in a lower cost setting, where we can still generate some margin," said Palomar Health Chief Financial Officer Hugh King in February.
In recent years, Medicare and Medicaid Services cleared the way for more procedures being reimbursed at outpatient centers. Notably, Medicare added nine neck and surgery procedures to its reimbursement list in 2014.
In addition, satellite sites are usually on the provider list for narrow-network health plans. These plans offer a smaller list of facilities, targeting those that are cost-efficient while offering high levels of care.
Given this, the plans have less expensive premiums, appealing to cost-conscious consumers. Insurers offer these plans, as well as health providers such as Scripps and Sharp.
Tri-City Healthcare was not available for an interview.
Sharp HealthCare declined an interview, but in a statement noted a soon-to-open outpatient center at Sharp Coronado and MRI services in central San Diego.
"We continue to see our outpatient volumes grow throughout the organization at our centers throughout San Diego County. Sharp's strategy is to continually evaluate additional growth areas in the outpatient arena on and off our campuses," the statement said.