Fewer Deals Didn't Stop the VC Cash From Flowing in Q1
Tuesday, April 24, 2018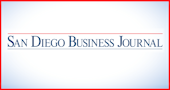 San Diego — Fewer San Diego companies received venture capital backing in the first quarter of the year but the total dollars raised were up compared to the same quarter the year prior, according to a pair of recently released reports tracking investments in local startups.
Equity Financings in San Diego
Q1 2014: 27 deals, $728.54M
Q1 2015: 22 deals, $271.4M
Q1 2016: 30 deals, $525.01M
Q1 2017: 25 deals, $294.83M
Q1 2018: 19 deals, $396.92M*
Source: Dow Jones VentureSource
*Our tally excludes Bird Rides' two financing rounds for $100 million and $15 million that Dow Jones included in its total; while registered in San Diego, the company is based in Santa Monica.
Nationwide the number of VC deals — just over 1,300 — was unchanged year over year, but the total invested rose by 30 percent to $25.7 billion, including $1.25 billion raised by ride-hailing giant Uber, according to a report by Dow Jones VentureSource.
In San Diego, VentureSource identified 21 deals through which $511.92 million was invested. However, two of those financings went to Bird Rides Inc., the electric scooter sharing services startup that registered the company with a San Diego address, but is based in Santa Monica.
Without those financing rounds, the 19 remaining deals added up to about $397 million in VC money.
In the first quarter a year prior, VentureSource tracked 25 deals totaling about $295 million.
Jeff Grabow, EY's U.S. venture capital leader, said the VentureSource report revealed a dip in local deal activity, but cautioned reading too much into the results of one quarter.
"These things ebb and flow," he said. The capital-intensive nature of the sector means the San Diego region's quarterly fundraising totals are frequently impacted by the timing of mega deals, he said.
The MoneyTree report, published by PricewaterhouseCoopers and CB Insights, found 15 deals totaling $346 million in the first quarter of the year in San Diego. Its report one year prior tracked twice as many and about $202 million in funding. The data gathered by the teams who produce the quarterly reports typically doesn't match up perfectly, but their findings tend to reflect similar trends. This quarter, both showed a decrease in deal activity but an increase in dollars raised compared with a year prior.
The largest round in the region in the first quarter went to Gossamer Bio, a biotech startup launched in January by former Receptos executives with $100 million from Omega Funds and ARCH Venture Partners, according to VentureSource.
Health care funding totaled 60 percent of the VC money raised in the quarter in San Diego, VentureSource found.
Crinetics Pharmaceuticals, which is developing therapeutics to treat endocrine disorders, raised $63.5 million. Expansion Therapeutics, a developer of RNA-targeted small molecule medicines, raised $55.3 million. Okogen Inc., which is developing drugs targeting pink eye, and Critical Diagnostics Inc., which provides diagnostic tools for cardiovascular medicine, raised $10 million and $8.5 million, respectively.
Ag tech startup Pairwise Plants LLC pulled in $25 million from Deerfield Management and Monsanto Growth Ventures.
And anti-drone tech company Citadel Defense Co. raised $12 million.
Empyr Inc., which provides technology that lets digital companies, such as Yelp, offer online users rewards for shopping offline, took in $7.53 million.
Overall, Grabow, with EY, said he was cautiously optimistic for companies' prospects going forward. The VentureSource report showed VC investment into U.S. companies reaching the highest level in the past three years and venture fundraising by U.S. funds totaling $8.78 billion.