NEW FRESH, FLAVORFUL AND FOODIE-ORIENTED DINING OPTIONS PLAY TO DIVERSE APPETITES
Casinos Draw Players To the Other Tables
Tuesday, April 24, 2018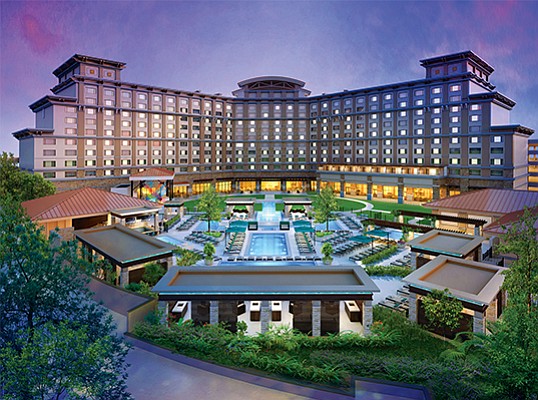 San Diego — Many of the biggest San Diego County casinos are in various stages of large scale expansions and renovations. For some casinos, this means updated dining options that appeal to fast casual, gourmet, and chef-driven food trends.
Carl Winston, director of L. Robert Payne School of Hospitality & Tourism Management at San Diego State University, said the casinos can afford to invest in trendy restaurants because the economy is doing well.
"During the recession it was really bad. There wasn't expansion going on — they were just trying to stay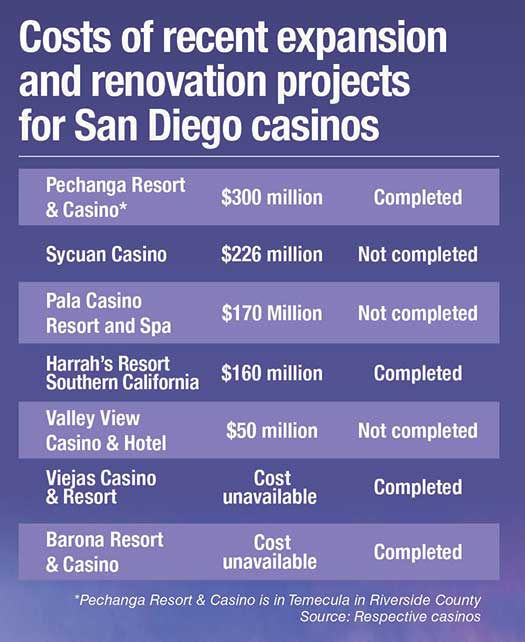 alive," said Winston.
Consumers are less likely to spend money on entertainment during hard financial times. The casinos didn't see as many customers in the recession of 2008 as they are now, he said.
Meanwhile, restaurants at casinos make up a very small percentage of casino revenue, Winston said. Gambling is the main economic engine and everything else, including restaurants, supports revenues.
Making a Splash Poolside
Pechanga Resort & Casino, just over the San Diego County line in Riverside County, unveiled a $300 million expansion in March that consisted of the addition of two new restaurants: Coveside Grill and Lobby Bar & Grill. The expansion also consisted of a new pool, spa, 568-room hotel tower, retail shops, and a meeting space.
Coveside Grill is a full service fast-casual restaurant featuring items like ice cream sandwiches, wraps, sandwiches, burgers, and cocktails. It's located by the new four and half acre pool complex, the Cove. Lobby Bar & Grill features American, Mexican, and Asian fusion food with a focus on farm to table and sustainability.
A new room service kitchen was also added to service the new hotel created during the expansion.
Duane Owen, executive chef at Pechanga, said Coveside was chosen to make the new poolside complex a destination for visitors. Prior to expansion, he said Pechanga had a small pool area.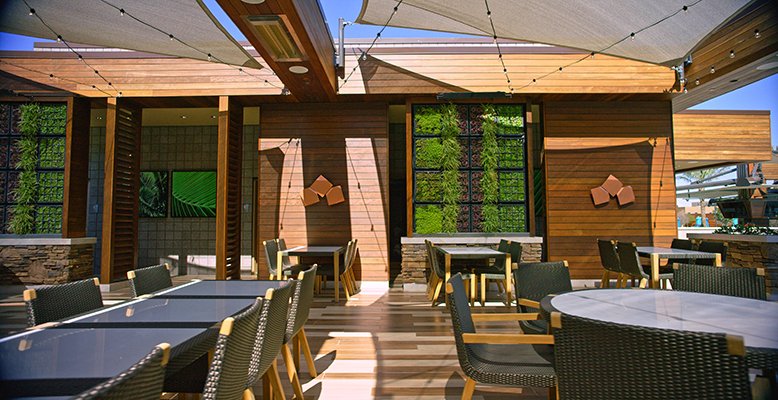 Lobby Bar & Grill was chosen because its farm-to-table and sustainable sensibilities weren't already offered at the casino's other dining establishments. "You don't normally see that type of cuisine in a casino environment," said Owen. "We don't have this, let's offer it to make sure that we're enticing everyone we want to come."
Owen thinks these options will appeal to millennial and health conscious crowds.
Food Hall Concept
Sycuan Casino a year ago broke ground on its expansion, which will include new dining options like a 7,363 square-foot food hall-like facility called Fresh Market, a raw bar and exterior lounge, contemporary three meal restaurant, and an 8,166 square-foot chef-driven fine dining establishment.
"We feel like we're in a bit of a foodie era right now. The food and beverage has become more and more of a critical component with the overall casino experience," said John Dinius, Sycuan general manager. "Throughout this process, we didn't want to alienate our existing clientele, so we really just tried to create a very wide or broad mix of a fast casual dining all the way to fine dining."
Pala Casino Spa & Resort started its $170 million expansion in October 2017 and has two restaurants in the works.
Bar Meets Grill, one of the restaurants included in the expansion project, opened in January. It is housed in the former Cave lounge and restaurant. Pala CEO Bill Bembenek described Bar Meets Grill as California casual. It will serve entrees from Cave's menu in addition to new entree and pasta options.
"What's really driving the expansions currently of several restaurants is really demand for that type of cuisine," said Bembenek. "And it's really the California casual cuisine where we see it appeals to lots of people."
Pala's underground wine restaurant, also called Cave, continues its operations. It now has wine and dinner pairings monthly with winemakers from all over California.
The casino's sports bar, Luis Rey's, is going through an upgrade. It'll expand to an indoor and outdoor restaurant with a new menu. Bembenek said Luis Rey's upgrade will round out the rest of 10 restaurants at Pala.
"We've always been of the mind that you have to have a very broad food offering in Southern California because of the diverse market," he said.
Food and Coffee
Viejas Casino & Resort opened its luxury tower, Willows Hotel & Spa, in February. It includes three new dining concepts: Locale Kitchen and Lounge, a farm-to-table California inspired restaurant, Ginger Noodle Bar, which has contemporary Asian fare, and the Daily Roast, a cafe with Starbucks and grab-and-go options.

Valley View Casino & Hotel announced an expansion project in October 2017, and said that it's scheduled to break ground in April. Valley View's new restaurant, Patties & Pints, will be included in the expansion. It will offer gourmet burgers, sandwiches, salads, desserts, craft beer, and wine. Additional buffet seating will also be added.
Barona Resort & Casino had an expansion of its own but not major upgrades to its restaurant offerings. In addition to adding 30,000 square feet of gaming space, 535 new gambling machines, two table game pits, new bathrooms, new VIP club booth, Barona added a few new offerings in its existing food court.
'Funner Burger'
Harrah's Resort Southern California's newest restaurant is a Smashburger that was added November 2017. The fast casual restaurant will offer its signature burgers along with an exclusive to Harrah's: the Funner Burger. This is a reference to Funner, California, the city where Harrah's is headquartered. The Rincon Band of Luiseno Mission Indians officially renamed the city in 2016.
Harrah's completed its $160 million expansion June 2017 which included a new hotel tower, a cocktail bar called Spiked, an entertainment center, and restaurant called 'RITAS Cantina.
Winston with SDSU said that casinos historically didn't have the amount of amenities they do today. When there were restaurants, they were usually all you can eat buffets or steakhouses.
"The historic model for casinos was 'do the least you can for food beverage so you'll keep them on the floor,'" said Winston. "That has evolved into 'our restaurants need to be amenities that are attractive and will keep people coming back more often.'"