This Is a Place of Inspiration, Poetry and Perfect Sunsets, of Course
Sunday, April 22, 2018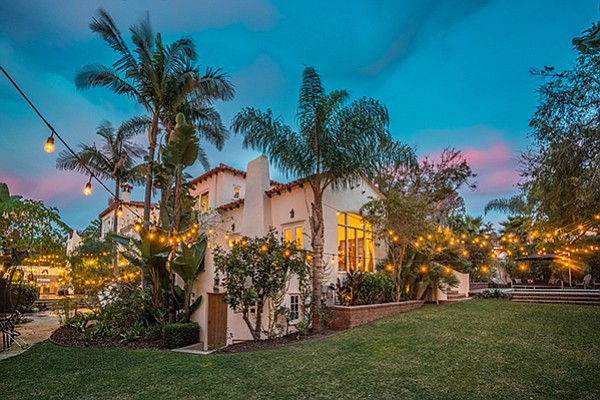 continued — It's important to note that John P. Mills is not the namesake of the Mills Act, familiar to many San Diegans as the historic designation that provides a property tax break. The Mills Act was shepherded through the California state Legislature in 1972 by California State Senator Jim Mills as a measure to preserve historic homes and neighborhoods.
A City of San Diego Historical Resources Board 2012 document noted that the Devonshire home was built in the subdivision on a lot purchased by John Steven McGroarty whose intent was to build spec house for resale. John P. Mills built his home nearby at 1203 Sunset Cliffs Blvd. at a cost of $175,000 in 1925. It still stands today.
The home on Devonshire was meticulously renovated by San Diego architect Lee Hope in 2011 under the strict guidelines of maintaining its historic character to qualify for the Mills Act designation in 2013. According to Hope's website, he is a native San Diegan and third generation Hope architect.
The renovation involved a complete remodel of the upper and lower levels of the residence while refreshing but keeping the living and dining room authentic to the original.
Each room is a delight — red Spanish-tile stairs with a wrought-iron hand rail lead to the upper level with a girl's room, boy's room, laundry, den, dramatic tile shower in the large bathroom and an exquisite master suite with a fireplace. Nearly every room has a view of the ocean.
The kitchen is open to a large family room and light floods in from all sides through arched windows and French doors. Another formal living room is off the dining room.
The large lot has a pool, a tree house (it too with an ocean view) built around an ancient tree. Several rooms have their own private balconies overlooking the ocean and various outdoor entertainment areas.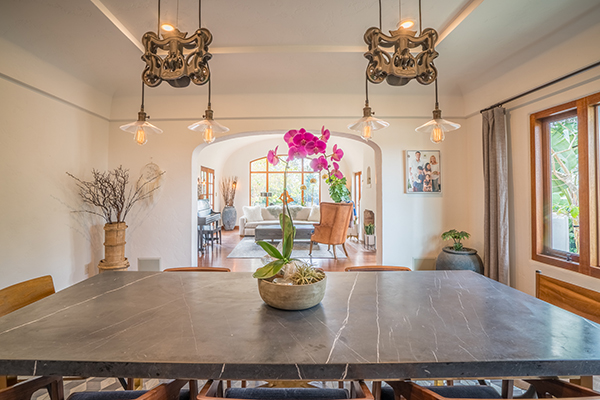 A spectacular tiled fountain featuring two large peacocks in shades of light blue and yellow is the centerpiece of the courtyard that is off a den in the back. Several strings of Edison lights crisscross over the pool and outdoor kitchen area.
It's magical.
The builder of the home, McGroarty, was a poet, Los Angeles Times columnist and author who also served two terms as a California Democratic Congressman from 1935 to 1939.
He wrote a poem about the home he referred to as "The Harbor of the Sun." An excerpt:

"In the heart of man there are two times of longing — the time of youth that longs for wealth and power, and the time of retrospect when the soul grows wiser. And for these times and all times, the Harbor of the Sun waits with both a solace and a reward."
Send luxury real estate items to sglidden@sdbj.com.
Prev Next