Boys & Girls Clubs Partners to Support, Serve Military Kids
Sunday, April 22, 2018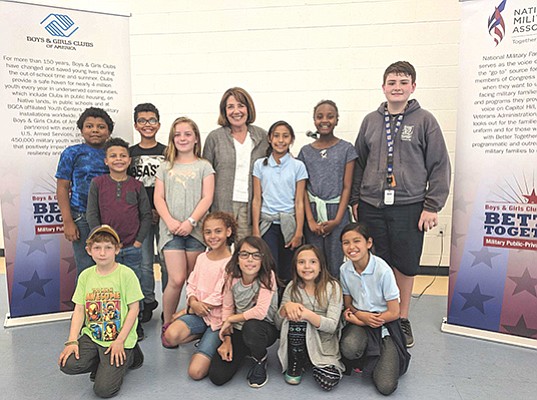 San Diego — Boys & Girls Clubs of Greater San Diego hosted a military public-private partnership inaugural roundtable discussion to kick off "Better Together: A Military Public-Private Partnership" designed to allow children and teens to share their experiences and challenges as members of military families. The roundtable took place recently at the Clairemont Branch in the education and nutrition center.
The event was specifically targeted to focus on the needs of military children learning to thrive in an ever-changing environment and to create better understanding among civilians about the needs of military families. Launched in 2016 by Boys & Girls Clubs of America, MPPP is a partnership between government agencies, organizations serving the military, private sector corporations and foundations that come together and answer the needs of military youth. For example, Raytheon, one organization that is a part of MPPP, expanded its partnership with Boys & Girls Clubs by funding STEM Centers of Innovation at BGCA-affiliated youth centers or clubs near military installations.
Danny Sherlock, CEO of the Boys & Girls Clubs of Greater San Diego said: "Supporting military families is our responsibility; inspiring the military child is our privilege...The roundtable allowed our military youth to share key learnings that will enable us to find out how we can be of continued service to help them (military kids) accomplish their goals."
• • •
San Diego Habitat for Humanity and local nonprofit Sustainable Surplus Exchange announced a merger of their business operations in early March.
Sustainable Surplus repurposes donated, excess business items — from office supplies and furniture to computers and laboratory equipment — by donating them for use by the community, namely educational, charitable and startup institutions. Through this practice, unnecessary waste is kept out of landfills, reducing greenhouse gas emissions, and conserving the natural resources required to extract, manufacture, and transport new items.
Habitat for Humanity builds and repairs affordable homes for families throughout San Diego County who earn less than 80 percent of the "area media income" and who are in need of improved housing. Habitat for Humanity operates three home improvement retail centers in Escondido, Kearny Mesa, and National City that accept donations of new and gently used items for resale. The proceeds support the group's homebuilding mission.
The Sustainable Surplus programs will become an initiative of the Habitat for Humanity ReStore, in support of Habitat's mission of building strength, stability, and self-reliance through shelter, and as an effort to continue the Sustainable Surplus model of reducing business waste.
The current Sustainable storefront located at 1842 Marron Road in Carlsbad will become a fourth ReStore location. Sustainable's current online store will continue to operate and will incorporate ReStore inventory.
• • •
In an effort to respond to San Diego's drug crisis and the immediate need to improve opportunities for access and admission to treatment programs, Pacific Bay Recovery has added to its executive team. Dr. Michael S. Duffy, Sr., D.O., medical director of Pacific Bay Recovery, announced the appointment of Bryan Sharp to the position of vice president of admissions. 
Sharp joined the Pacific Bay Recovery team in 2012 accomplishing various duties throughout the organization, most recently as director of admissions.  
Sharp has experience as both a counselor and intake specialist on the recovery side, as well as experience as a patient. After enduring eight back surgeries, he developed a narcotic dependency which took control of his life.
"That was a low point for me. My addiction to narcotics caused me to be bound to a wheelchair," Sharp said. "Pacific Bay Recovery not only changed my life — it saved my life."
After being clean for more than a year, Sharp was asked to join the Pacific Bay Recovery marketing and business development team. 
"Today, I lead the admissions team and wake up every day knowing that I can change someone's life," Sharp said. "That is my gift back to all those who are willing to choose life." 
Send Kudos/Giving items to
sglidden@sdbj.com.