SD 500 update: Walshok Honored; Rippetoe Nominated For Industry Board
Wednesday, April 18, 2018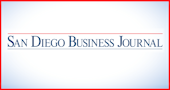 San Diego — Mary Walshok, associate vice chancellor for public programs and dean of extension at UC San Diego, was honored with a lifetime achievement award at the second annual Teach For Innovation Awards benefit for Teach For America-San Diego. In addition to supervising the $45 million budget and operations of the Extension program, Walshok is among the region's leaders in workforce development and its role in fueling regional economic prosperity.
• • •
San Diego Convention Center Corp. CEO Clifford "Rip" Rippetoe has been nominated to join the International Association of Venue Managers executive board for a four-year term. If elected at the annual convention in July in Toronto, Rippetoe will be the second vice chair and scheduled to serve as chairman in 2020-2021. IAVM's 5,100 active members include managers and senior executives from auditoriums, arenas, and convention centers.
Rippetoe was recently honored with the inaugural "catalyst for change" award at the Women of Influence Awards. The Connected Women of Influence organization came up with the award to recognize a man that provides advancement opportunities to women.
• • •
San Diego Padres Managing Partner Peter Seidler and restaurateur Dan Shea were given Philanthropy in Peacemaking awards, at the National Conflict Resolution Center's 30th annual Peacemaker Awards Dinner at the San Diego Marriott Marquis & Marina, for their efforts raising housing tents for the homeless . Retired Sempra Energy executive Jessie Knight Jr. emceed the event.
Seidler and Shea also will be honored with the Ronald Kendrick Memorial Award for Regional Collaboration at the LEAD San Diego Visionary Awards on June 14 at the San Diego Marriott Marquis & Marina.
Send your suggestions for SD 500 updates to news@sdbj.com or
njensen@sdbj.com.