TOURISM: SOME INCLUDE BREWERIES, PIPE PRODUCTION SITE
Pot Tours Put Edibles, Education on Itinerary
Wednesday, April 18, 2018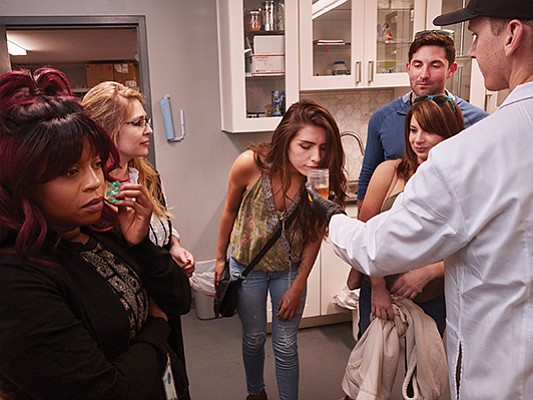 San Diego — Several cannabis tour companies have sprung up in San Diego County recently, filling a niche in the industry in an unexpected way.
"I know that they are trying to model it off of what we see being successful in Colorado," said Dallin Young, executive director of the Association of Cannabis Professionals.
"(Colorado's) tourism has expanded quite a bit since 2014 when they started doing recreational sales. So a lot of these people are
just trying to fill that niche here." "(Colorado's) tourism has expanded quite a bit since 2014 when they started doing recreational sales. So a lot of these people are just trying to fill that niche here."
Kaylena Pinuelas, 36, started her cannabis tour company, MJ Tours, January 2018. She wanted to work in the industry to provide cannabis education she thought was lacking. Pinuelas felt a cannabis tour was her best option because it wouldn't be federally illegal and it would be cheaper to run than a cannabis product producer.
"I thought of a way to be part of the industry without actually being in the industry," said Pinuelas. "I have nothing to do with the industry — all I do is I provide transportation in a fun, educational way."
The Ride
Pinuelas purchased her own tour bus, a Mercedes Sprinter 2018 Executive, for $100,000. The cushy limousine style van holds up to 13 customers plus a tour guide. Green lights illuminate the floor and ceilings and a TV displaying cannabis facts plays while the tour runs. MJ Tours Corp. works with a limo business that Pinuelas purchased to operate the tours.
Pinuelas said the company has started making income, around $2,000 to $3,000 per month. To make extra revenue, MJ Tours also offers personal concierge service.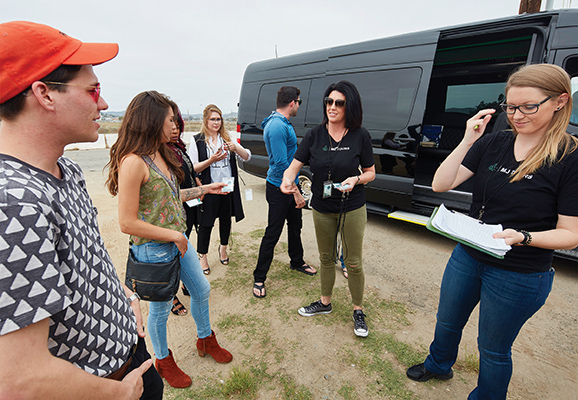 She looked to the cannabis tours that Colorado was already doing for inspiration. She thought a lot of them were more party-oriented and she wanted to make her tours more about marijuana education.
Pinuelas said she's been told by lawyers that using cannabis on tour buses is a legal gray area. She goes by the "limousine law" which states that passengers can consume alcohol as long as they are partitioned off from the driver. Pinuelas allows her customers to take edibles and use marijuana vapes but doesn't allow smoking of marijuana.
MJ Tours offers several excursions: a grow tour looks at the cultivation side of cannabis; buds & brews stops at dispensaries and breweries; and weed & wine visits a dispensary then takes riders to Ramona wineries. Pinuelas is planning on rolling out a cannabis & cocktails tour which features visits to a dispensary, a distillery, and a cocktail lounge.
Growth Experience
The company connects other cannabis businesses with consumers. Pinuelas' personal favorite tour, the grow tour, features a stop at Outliers Collective (Outco), a cannabis cultivation facility, Infinite Chemical Analysis, a cannabis testing lab, and a dispensary. She calls this a "seed to consumer experience," meaning tour guests learn about the entire cannabis product creation.
"That was really important to me because a lot of people don't understand where their product is coming from or the importance of testing and the importance of having products tested," said Pinuelas.
On a recent bus tour, Pinuelas and her tour guide, Roni Stetter, stress the importance of buying products that are tested at labs like Infinite Chemical Analysis. Outco is one of the facilities that tests its products at that lab.
All cannabis products sold in California must be lab-tested after July 1.
Virginia Falces, communications director for Outco, says the facility only has the time and space at the moment to work with one tour company. Falces hopes that consumers get introduced to Outco products while on a MJ Tour, but says Outco signed a contract with the tour company initially because of its strong education component.
Educated Consumers
"What we really hope is that it's leading to a much more educated consumer who even if they're not buying an Outco product when they're in the dispensary, and they're looking at (a product), they're going to ask a few questions about it," said Falces
When customers arrive at Outco in El Cajon, an employee takes them on a tour of the facility. They are first shown the grow room, viewable from a window in a conference room, then the extraction room, and then Outco's medicinal use only dispensary if visitors wish to shop.
At Infinite Chemical Analysis in Miramar, CEO Josh Swider guides visitors through his lab explaining the process and equipment used for testing cannabis for pesticides and microbials.
Low Demand?
A few other tour companies have started recently, including That Hemp Connection and West Coast Cannabis Tours.
Scott Kavieff, owner of That Hemp Connection, said he thinks the demand for these types of tours is low. In his experience, his regularly scheduled tours are less popular than he anticipated.
"Certainly once we're in harder tour season here, the demand will pick up just because the sheer number of people from out of town here," said Kavieff. "But outside the tourist season ... the attraction that Colorado first had, and then Washington and Oregon, I think may be wearing off a little bit. I don't know. We'll see. It's new for all of us."
That Hemp Connection, which started August 2017, has offerings similar to MJ Tours. There's a tour that visits dispensary Southwest Patient Group then either drives to Sour Glass Design to witness glass blowing of marijuana pipes or Mike Hess Brewing for beers and snacks. Customers can use cannabis onboard the tour. Like MJ Tours, he also offers personal concierge services.
Unlike MJ Tours, That Hemp Connection offers classes on growing cannabis and cooking with cannabis. Kavieff says he decided to offer these to make his company well rounded. He also contracts with transportation services instead of owning a tour bus.
West Coast Cannabis Tours offers similar tours but focuses on large groups. It operates with a 28 and 48 passenger bus. Owner Todd Green said he built the LLC in May 2017 and started tours in December 2017.
Green said there's been some overlap with his and the other San Diego cannabis tours. For example, MJ Tours has visited the same dispensary West Coast has and That Hemp Connection visits the same glass blower. Green thinks this is because there's a limited amount of cannabis businesses to partner with in San Diego.
Green does imagine that other cannabis tour companies will start in San Diego. He wants to start a cannabis tourism association to help encourage regulation and also advocate on behalf of these new companies.
Business Opportunities
Young, with the Association of Cannabis Professionals, sees lots of other types of small businesses besides tour companies filling niches in the cannabis industry in unexpected ways. For example, cannabis related insurance companies, CBD products for pets, and decorative pots for clones.
"I'd say that's one of the best parts about working in this industry is there's a lot of ingenious folks that are coming out with stuff I never really thought about," said Young.
MJ Tours Corp.
CEO: Kaylena Pinuelas
No. of local employees: Three
Investors: None
Headquarters: San Diego
Year founded: 2018
Company description: Tour bus service to various cannabis facilities
Key factors for success: MJ Tours offers tours that educate consumers on cannabis