PROPERTY: SUBMARKETS SEE BIG RENTAL REBOUND AS DEMAND HEATS UP MARKET
Office Space At A Premium
Wednesday, April 18, 2018
San Diego — New construction, a thriving economy, rising construction costs and low vacancy rates have pushed office rental rates ever higher throughout much of San Diego County since 2010, when rates started rebounding from the recession.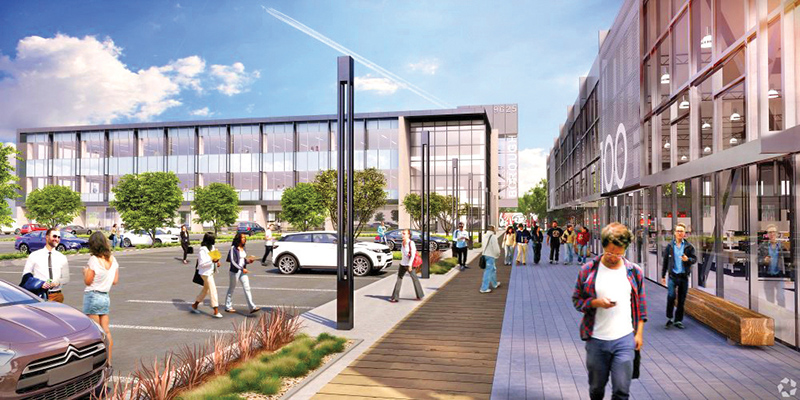 University Town Center, Sorrento Mesa and Del Mar Heights are among the standouts while North County submarkets lag behind, in part because most of the new construction in North County has been industrial rather than office.
Although figures vary among commercial brokerage firms for the size of the change among San Diego's submarkets, the trend was fairly consistent.
University City, in particular has seen a continuing upward trend in office rents as new projects come on line and older ones are renovated.
"There's certainly a lot of good news, a lot of good cheer in UTC," said Matt Carlson, senior vice president of the commercial real estate brokerage firm CBRE. "There's a lot of money being pumped into UTC by a lot of different companies that are signing up for exciting leases."
The expansion of Westfield UTC Mall, completed in 2017, along with extension of the San Diego trolley to University City has added upward pressure to rental rates in the submarket.
The expanded mall, with high-end retail shops, fitness centers and a plethora of restaurants is seen as its own amenity, making the area especially attractive to companies seeking to recruit and retain skilled high-tech and biotech workers.
Construction of the trolley line started in late 2017, with the work projected to take two years.
"The future of that is going to make UTC an even more desirable submarket because of the access for employees to public transportation," said Tim Olson, a managing director of the commercial real estate brokerage firm JLL.
Among the new office products to come on line in UTC since 2010 are the 268,000 square-foot i3 building and the 96,435 square-foot Eastgate Terrace in 2017, The Campus on Via La Jolla at 14,750 square feet and the 63,129 square-foot Eastgate Summit in 2016, the 306,700 square-foot One La Jolla Center and the 414,575 square-foot La Jolla Commons II in 2015, and the 302,262 square-foot La Jolla Commons I in 2008.
Carlson said the Irvine Company, which he said owns about 70 percent of the commercial office property in UTC, recently increased rents it charges by 15 cents a square feet across the board in high-rise, mid-level and low-rise office buildings.
"That tells you something about demand in the marketplace," Carlson said. "If Irvine is bullish and raising rents, they tend to usually do that earlier than other groups. That tends to signify where UTC is today."
Brett Ward, an executive managing director of the commercial real estate brokerage Cushman & Wakefield, said UTC had further to go than some other submarkets in rebounding from the recession because the Irvine Co. drastically cut rental rates during the recession to keep tenants from moving out.
JLL ranked UTC/Eastgate first in rent increases with what JLL reported as a 40.2 percent increase over the past seven years.
CBRE ranked UTC fourth, with what it reported as an increase of 40.7 percent between 2007 and 2010, behind Sorrento Valley at 48.4 percent, Sorrento Mesa at 42.8 percent and Governor Park at 42.2 percent.
One reason for the difference in numbers is that the brokerage firms define the submarkets differently.
For example, CBRE reported on Sorrento Mesa and Sorrento Valley separately and JLL did not.
Both CBRE and JLL have offices in UTC —– CBRE right in the mall, and JLL nearby in The Aventine.
Not surprisingly, Cushman & Wakefield reported that newer buildings command higher rental rates than older buildings.
The average monthly rental rate in projects built after 2010 as of the first quarter of 2018 at $2.92 per square foot was 21 percent higher than in buildings built before 1990, according to Cushman & Wakefield.
The catch is that most of the office buildings in San Diego County — about 71 percent – were built before 2000.
With demand for new and modern office space outpacing supply and rents on the rise, many landlords have responded by renovating their older property.
About 47 percent — 597,551 square feet – of the projects now under construction were renovations, Cushman & Wakefield reported.
They include the 339,000 square-foot Ampersand in the former Union-Tribune buildings in Mission Valley, the 168,000 square-foot 9625 Towne Center Drive, and the 50,000 square-foot Makers Quarter, Block D in downtown San Diego's East Village.
At the end of 2017, about 1.3 million square feet of new office projects were under construction, with more than half of those in central San Diego submarkets.
Although not as high-performing as UTC and a handful of other submarkets, Rancho Bernardo was one central region cited by brokers as a submarket that has prospered since 2010 with a bright outlook looking ahead.
CBRE reported that office rents in Rancho Bernardo increased by 37.2 percent since 2010, rising from $2.25 per square foot to $3.09 per square foot.
JLL reported that office rents in Rancho Bernardo have risen by 25 percent.
"I've watched this market become more and more desirable because of the good school system, because of the good neighborhoods for families to be raised in," said Jeb Bakke, a senior vice president with CBRE.
"I'm bullish. There are lots of positive things happening along the I-15 (Interstate 15) corridor," Bakke said.
Rancho Bernardo is home to several large companies in the defense and medical field – two segments of the San Diego County economy which continue to grow with a healthy appetite for big buildings.
'It's the San Diego market where we have the largest amount of big companies," said Olson with JLL. "Those big guys continue to expand and grow."
Looking ahead, brokers said rising office rental rates are likely to be the norm as new and renovated projects become available.
"With current dynamics in the market, with limited new construction tightening vacancies and increased construction costs, we're going to continue to see some rent growth," Olson said. "I don't think it will be exorbitant but I think we'll continue to see rent growth."