RETAIL: MACHINES INTERACT WITH CUSTOMERS, OFFER EASIER PAYMENT
Vending Machine Maker Bets You Will Select AI
Tuesday, April 17, 2018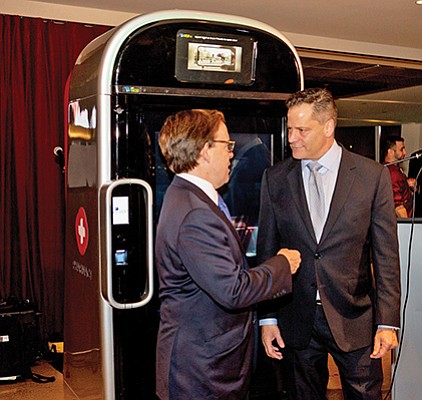 San Diego — In the next few weeks, the ViaTouch Media (VTM) headquarters will be taking shape in the Sorrento Valley area.
The office will feature sleep pods and cold brew coffee machines for its 25 or so employees — and a couple of "Vicki's."
Vicki (short for ViaTouch Intellishelf Cognitive Kinetic Interactions) — essentially artificial intelligence — is the company's latest iteration of its high-tech vending machine.
"It's the future," said Thomas Murn, 52, founder of VTM. "It's like SIRI or Alexa in a machine, but when you pick up an item, you can ask any question about it."
Where the machines can go and what can be stocked in them is up to the clients, but Murn envisions them being placed everywhere from college campuses, to hospitals and hotels, and businesses.
Smaller Retail Formats
Zoe Leavitt, a CB Insights senior analyst, said the automated retail vending machines could help retailers, especially ones that might sell fresh foods.
"I think it's a trend we're going to see continuing in the future as retailers are downsizing their real estate footprint," she said.
"America has more retail space per square foot than any other country in the world by a huge margin, so I think we'll continue to see a contraction in a sort of traditional brick and mortar retail store, and in their place we'll see more of these tech-enabled, smaller retail formats," Leavitt added.
While Vicki is unique, Leavitt said that the machines aren't the only ones in the automated retail market. There's other startups like Bite, a self-ordering touchscreen kiosk, Cargo and Bodega, both based in New York.
Valuing the Experience
"As the vending machine operators' industry becomes more saturated, companies have been forced to innovate to attract consumers who are increasingly valuing experiences over the products themselves," said Meghan Guattery, retail industry analyst at IBISWorld. "While some have opted to diversify their product offerings to include nontraditional vending products, such as durable goods like headphones and video game consoles, others like ViaTouch have instead focused on technological innovation."
Some of VTM's earliest machines have been around since 2014.
Murn said there are 100 prototypes now functioning across the country in hotels and major businesses, including in Marriott hotels, Citibank and the Apple campus, to name a few, for both public and private use.
"So we're testing," Murn said. "And we took all of those learnings to develop Vicki into what it's becoming now."
The newest versions of the machines start coming off the line in the next seven weeks, Murn explained, with the machines delivered to customers in June, and a major roll out in the months following.
Directed Sound
In September, Murn expects some 600 of the machines to reach a number of universities, including UC San Diego, where he has been working with the school's sound department in directed sound technology. The technology, Murn explained, would allow for a less noisy, and more private shopping experience for the consumer.
This year the company expects about 4,000 machines to be rolled out.
That'll bring in about $35 million, Murn said. With software and other fees, about $38 million, he said.
Revenue will also come from a percentage of advertising — with content controlled by VTM — per the business customers' needs. Murn said customers will also be able to load original advertising content.
The list price for one machine is $10,000.
With volume, the price goes down, he explained, or, with options, the price will go up.
VTM, Murn said, is doing some custom machines that cost as much as $15,000.
Pre-orders last year started at 6,500. Now, he said, 8,000 machines have been preordered.
Some of the companies VTM is in talks with for the machine include Estee Lauder, Red Bull, 1-800-Flowers and Dollar General.
All told, to get Vicki where she is today took $7 million in startup revenue — money that came from Murn's personal capital and from major and smaller investors. Some of his major investors include First Data and Osprey Capital.
Having the Answers
Vicki will come loaded with several hundred answers that are most commonly asked about the products in question, Murn explained.
Some of those scenarios can be used for medications, including the amount of dosage that should be taken, or what SD Disk would be appropriate for a digital camera.
"We're trying to make all the little annoying things go away," said Murn, who admitted he hates waiting in lines and getting the wrong information.
Vicki will still accept payments via a credit card, but he said if you sign up using an app, you can just use your eye (iris scan) or your thumbprint to make purchases.
Better Ways to Pay
"Vicki's advanced technologies alone, such as the machine's thumb and iris scanning payment methods, will lead consumers to choose those machines over other run-of-the-mill vending machines," said Guattery of IBISWorld.
It'll be foolish to carry your wallet, Murn explained. "Why would you want to carry your credit card ever again? It's silly."
While Leavitt of CB Insights wouldn't say these automated retail machines would render credit cards obsolete, she said that what you're seeing in China is that more and more people are using their phones for everything rather than cash or credit cards.
Shoppers in China are also flocking to theses automated shops, more so than here in the U.S.
But Leavitt believes U.S. shoppers will have a positive shopping experience with the rise of automated retail machines.
"With the rise of e-commerce, we're all used to now buying things without interacting with people," Leavitt said. "One of the benefits of the vending machine is that you can see the products right there through the glass."
And compared with e-commerce, where it's a little more abstract, Leavitt explained, you get the product right away, which is very convenient.
"I think in these spots where there's a high-density of people, like on university campuses or in the lobbies or apartment complexes in New York City, or in big office buildings...it will be very convenient," she said.
There is no timeline for when the automated retail industry could see a large growth. Leavitt said, however, it could theoretically capture a significant portion of retail over the long term, and also create new paths to purchase.
Data Access
"One of the benefits is that it helps retailers collect more data, especially if people do pay with their phones. Companies then get access to all that customer data that they wouldn't if the shopper just went into a traditional store and paid in cash," she said.
Where does Murn see Vicki five years from now? "She's teaching people about artificial intelligence — you don't have to be afraid of it," he said.