TOURISM: SEAWORLD OFFERS THRILLS; LEGOLAND MAKES HOTEL STAY FUN
Parks Pick Their Strategies for Drawing Summer Visitors
Tuesday, April 17, 2018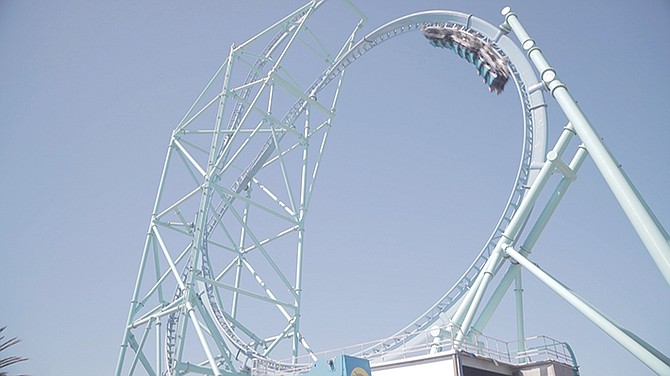 San Diego — SeaWorld, Legoland, the San Diego Zoo, and Safari Park San Diego theme parks have several new offerings lined up for the summer, peak season for these Southern California parks.

"What's interesting about the San Diego theme park industry, if you look at those four players in the last two years, they've made some big upgrades to all their respective theme parks," said Miro Copic, marketing professor at San Diego State University.
Some of these upgrades include Legoland's Sea Aquarium, the zoo's Africa Rocks exhibit, and SeaWorld's addition of thrill rides.
Increasing Attendance
Overall attendance at U.S. theme parks has increased in recent years. Latest visitor data available from industry trade group Themed Entertainment Association, indicated 148 million visits to the top 20 amusement parks in North America in 2016, up 1.2 percent from the previous year.
All top amusement parks in the association's global attendance report, which included Disneyland and Six Flags, showed an uptick in visits except for SeaWorld. Across the network of SeaWorld parks in the U.S., attendance was down 2.1 percent.
In the latest SEC filing, SeaWorld Entertainment reported hosting 20.8 million guests at its parks in 2017. The year prior the parks hosted 22 million.
Copic believes that San Diego theme parks will continue to see positive growth even though there's some uncertainty in the stock market.
As long as the economy remains strong, unemployment is low, and wages are increasing, visitors will still want to visit theme parks.
During the recession all U.S. theme parks did poorly except for Disneyland and Universal Studios which Copic said remained very desirable locations. Consumers are more likely to visit more than one theme park now that economy is in recovery. The Go San Diego Card and SoCal Theme Park Pass make this a bigger incentive, said Copic, allowing visitors to visit multiple parks and tourist destinations at a discount.
"And with the amount of new rides and attractions that all the theme parks in San Diego, that should encourage not only locals but tourists to go visit the parks," said Copic.

While still recovering from the backlash stemming from the documentary "Blackfish," which raised issues over SeaWorld's treatment of captive orcas, company CEO Joel Manby stepped down in February 2018 and was replaced with interim CEO John Reilly. In public filings, SeaWorld indicated this leadership transition was the best way to advance its progress.
Copic doesn't think that SeaWorld's troubles have affected San Diego's other theme parks as they have their own presence that draws people in. The San Diego Zoo, for example, has a strong international presence.
Thrill Ride
David Koontz, SeaWorld communications director, says that SeaWorld is focused on its newest features: the Electric Eel roller coaster, "Sesame Street Party Parade," and new pricing.

Due to open May 12, Electric Eel is a 150-foot-tall rollercoaster that will propel riders forward, backward, and upside down on 853 feet of track. Ride testing for the rollercoaster is already underway.
Sesame Street Party Parade debuts May 5 as an addition to SeaWorld's 10 year running Sesame Street Bay of Play.

"Generally speaking, this applies to the theme parks industry, it's always important to continue to refresh and bring in new attractions to a park," said Koontz. "It allows you to attract a new audience."
The Mission Bay park prices its annual pass at $109.99, slightly higher than last fall's price of $99.99. Previously, the yearly pass was $159.
New Hotel
Legoland California in Carlsbad has a couple of new features added to its Sea Life aquarium and a new hotel due to open this month.
Scheduled to open April 27, Legoland Castle Hotel will be a 250-room castle themed lodging. Three types of room themes are available: Knights and Dragons, Royal Princess, and Magical Wizard. There are amenities like the restaurant Dragon's Den, which will be the park's only full-service sit down restaurant.
The Sea Life Aquarium debuted two new exhibits in March: Sea at Night and Shark Mission.
Legoland didn't return a request for comment but in a news release General Manager Peter Ronchetti said the new hotel will add to the overall experience of visiting Legoland.
Copic said Legoland's Castle Hotel, Sea Aquarium, and its water park are good additions to widen its audience.
"It makes Legoland a little bit more interesting for broader ages than just that 5-12 demographic," said Copic.
The Zoological Society of San Diego, which operates the San Diego Zoo at Balboa Park and Safari Park in Escondido, continues its tradition of educational exhibits this summer.
The San Diego Safari Park is scheduled to open Walkabout Australia, a 3.6-acre exhibit in which visitors can see Australian wildlife like kangaroos, wallaby, and wombats.