SERVICE: GROWTH RATE 100 SHOPS A MONTH; NEW TARGETS MARINE, AVIATION
Co.'s Nano-Ceramic Coatings for Cars Off to a Fast Start
Tuesday, April 17, 2018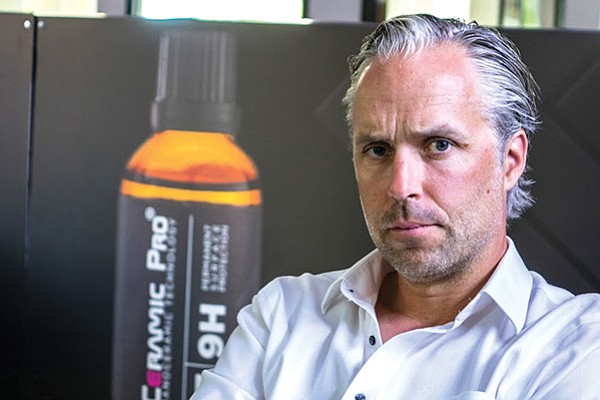 San Diego — In a matter of years, Ceramic Pro has watched as its gross revenues have skyrocketed from $331,000 in 2014 to an estimated $22 million projected for this year, according to its founder and CEO Peter Diebitsch.
He counts several reasons as to why the company that produces an automotive paint protection coating has seen such a phenomenal growth, but the main reason, he said, starts and ends with what he calls the company's "revolutionary product."
But it could also be based on its current growth rate of 100 new shops per month around the country.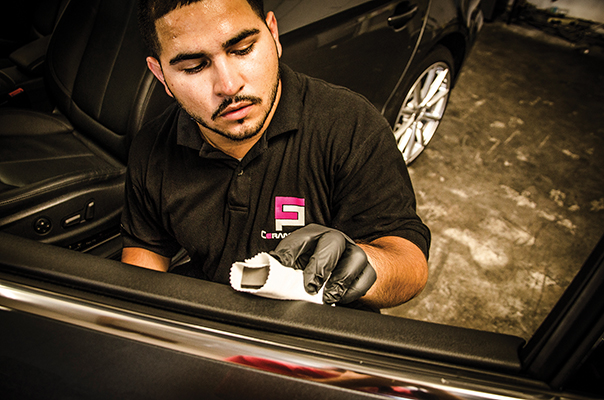 "We're growing so fast right now that it's hard to keep up," Diebitsch said.
Starting with capital from Independia Group, the European group of companies that Diebitsch owns, Ceramic Pro now has 1,500 installation centers across the country, including 15 in San Diego.
Ceramic Pro deals in nano-ceramic coating. When special formulas, which are researched and developed at the company's main office on Copley Drive, are applied to cars, it forms a "shield" for the vehicle, protecting the paintwork from damaging contaminants.
The Application
The application can be done using a sprayer, depending on what state the work is being done in and Environmental Protection Agency guidelines, but 90 percent is applied by hand.
"The challenge for the product is the installation itself," Diebitsch said.
The product has to be installed by a professionally trained, certified technician.
The company does 75 percent of the training of technicians in San Diego, with some travel to set up training at client's locations (body shops, detailers and auto dealers). It takes two to three days to train, depending on the experience level of the trainee, according to Diebitsch.
The company's flagship installation shop, 5 Point Auto Detail on Kearny Villa Road, coats 50 cars a month, according to Ceramic Pro.
The Cost
Costs for the services range anywhere from $300 to $5,000 depending on the amount of work being done. Diebitsch said the most common package they sell, the "Gold Package," costs $990, which includes the prep work that involves paint correction to create an even finish.
The Swedish-born Diebitsch, 42, describes himself as being, "always an entrepreneur." He owns seven businesses; Ceramic Pro is his first in the U.S.
He said he has a habit of building up companies, only to find a new CEO to take them over as he looks for new opportunities.
"Financially, we're in a very good situation," said Diebitsch. "We have very good margins."
Expanding Customer Base
Last year, the company launched a marine line, selling its products to the U.S. Navy and Coast Guard, and to boat manufacturers and captains of the "super yachts," he explained. The next step is the aviation industry, with Bombardier as one of the clients lined up.
For the future, R&D is working 24/7, Diebitsch said, adding that they have a lot of interesting products coming out that he isn't yet able to talk about.
"This technology, we're just in the beginning (stages). There's going to be so many things that are going to be replaced by nanotechnology," said Diebitsch.
The company employs 24 people in San Diego, and has two smaller office spaces to help accommodate its growth.