SDBJ INSIDER: Knowledge Empowers at Marketing Firm
Monday, April 16, 2018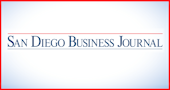 San Diego — Kate Lobel heard from several of her millennial peers at Power Digital Marketing that while they understood the nuances and terminology of their marketing specialty, when clients shifted into discussing other areas of business they were not so comfortable. So Lobel, the director of public relations, proposed a general business education program for the staff, and the company leadership said yes, because that's what they do at PDM, one of the region's fastest growing companies.
She designed a course with 14 sessions to be held during off hours (weekdays from 7-9 a.m.) on topics ranging from product development to financial metrics to legal. Some sessions would be led by guest speakers; others from the firm's leadership. The curriculum includes preparation and quizzes. It was a bit ambitious, but that's the way they do things at PDM, an honoree among SDBJ's Best Places to Work.
Lobel said she would like to see everyone at their firm be able to "speak at a C-Suite level." She was hoping for a handful of their 54 employees to show up for the course. After a dozen of the sessions, 55 percent of the staff is participating. But that's no surprise at PDM.
• • •
Buried deep in Illumina's most recent SEC filing, the "change in control severance agreement" provides CEO Francis deSouza with total compensation of $28.8 million if he were to lose his job in a transaction before Dec. 31, 2019. No offense to the brilliant and ultra valuable deSouza, but he's only been CEO since 2016 and didn't join the company until 2013. It's not like he built the company.
• • •
Another tidbit, courtesy of disclosure rules from the Dodd-Frank Wall Street Reform and Consumer Protection Act, Illumina's CEO pay ratio is 86:1, which means deSouza's 2017 compensation of $8.8 million is 86 times that of the median company salary of $102,920.
• • •
Three things I'm looking forward to at the 20th annual Athena Pinnacle Awards on May 3: First is the acceptance speeches; I again was a judge, and the winners among the region's women and women-led companies in STEM are worthy of the recognition. Two, Athena CEO Holly Smithson promises to unveil the initial benchmark numbers on gender pay among local executives. Third is the keynote speech from Emily Chang, Bloomberg TV anchor and producer and author of the book "Brotopia," which exposes all sorts of details of Silicon Valley's tech culture. Brotopia has movie written all over it.
Editor-in-Chief Nels Jensen can be reached via njensen@sdbj.com