Program Gives Students Some Key Lessons in Kindness, Helping
Sunday, April 15, 2018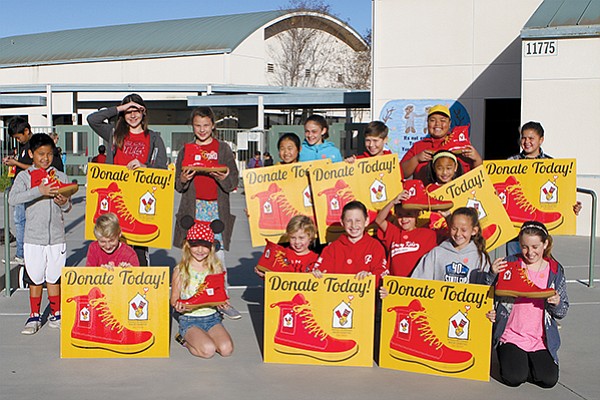 San Diego — During a three-day period last month, Shoal Creek Elementary students in Poway collected $1,000 in donations for San Diego's Ronald McDonald House as part of the charity's Red Shoe Crew program. To foster a sense of kindness and charity among school-aged children, students participating in the Red Shoe Crew program help educate their peers on the Ronald McDonald House Charities of San Diego's mission. 
San Diego's Ronald McDonald House provides a wide range of services, including lodging, meals and emotional support, to families who have a critically ill or injured child being treated at a San Diego-area hospital.
"Children are many times only concerned about bettering themselves and are caught up in a 'me' world," said Christie Setnan, fifth-grade teacher and student council coordinator. "This fundraiser puts them in a position to help another child and their families and also see how far their donation can help others. Teaching this is one thing, but having the students actually put their donations in the big red shoe makes it a reality." Visit: rmhc.org.
• • •
The Grossmont Healthcare District announced its continuing its support of community health-care clinics who serve low-income, uninsured and underserved residents of the East County with recent grants to the La Maestra Family Clinic, Family Health Centers of San Diego and Vista Hill Foundation.
The GHD board recently approved a $35,000 grant for equipment to provide dental and orthodontic services to patients who visit La Maestra's four dental clinics. A fifth dental clinic in El Cajon is expected to open in the fall of 2018. La Maestra officials said its dental clinics provide approximately 55,000 patient encounters annually.
In addition, the GHD board recently approved a $40,276 grant to Family Health Centers of San Diego for a new peer navigation program that helps recently discharged hospital patients connect with behavioral health services at their new Grossmont Family Counseling Center.
The GHD board also recently approved a $30,000 grant to Vista Hill Foundation, a social services nonprofit that operates the Vista Hill ParentCare Family Recovery Center in La Mesa. Since 1989, the center has provided high-risk mothers and their children with a variety of services, including daily substance abuse treatment, parenting skills training and on-site specialized child care. Visit grossmonthealthcare.org.
• • •
The San Diego-based TERI Inc. announced that the Walter J. and Betty C. Zable Foundation awarded the nonprofit a $1,000,000 grant for Phase II of the TERI Campus for Life in San Marcos. The additional $500,000 will be donated as a challenge upon finding a $500,000 match. Zable will match dollar-for-dollar all new contributions from individuals, the community, corporations, and foundations, toward the completion of Phase II.
Prev Next