Fox Rent A Car App Service Expands to San Diego
Sunday, April 15, 2018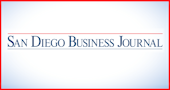 Los Angeles based Fox Rent A Car announced the expansion of its FOXpress app services to San Diego and San Jose.
FOXpress allows consumers to make rental car reservations at any of Fox's 20 corporate locations. Customers can bypass lines and counter services with this app.
Fox's corporate San Diego location is at 3355 Admiral Boland Way.
Fox, founded in 1989, first launched FOXpress at its flagship location in Los Angeles. In a statement, the company said this was done to be able to observe user feedback and needs.
"With the launch phase successfully completed, Fox is expanding the services to other West Coast locations to further service to some of their busiest locations, serving both business and government clientele with services that help their needs most," said the company in a statement.