BREWING: SHE INCREASED MEMBERSHIP, BUILT RELATIONS WITH TOURISM GROUPS
Exec Director Helps Brewers Guild Draw Crowd
Thursday, April 12, 2018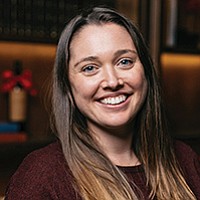 San Diego — When Paige McWey, 31, first started at the San Diego Brewers Guild as executive administrator, she was handed all of the nonprofit's most important files in a single box and a flash drive.
Five years later, McWey has established processes and programs providing the blueprint the organization needed to grow. And, today she is the group's first executive director.
"My role is to make sure that we continue to move forward as an association and continue to provide benefits and values for our members," said McWey. When she first started, the guild had 62 brewery members and 201 total members, including affiliate and allied members. Currently, the guild has 110 brewery members and 294 total members. San Diego craft beer has exploded throughout the years — in 2013 there were 70 breweries in San Diego and now there are more than 130. San Diego brands like Stone, Green Flash, and Karl Strauss Brewing Co. are some of the biggest beer producers in the U.S. (Green Flash announced April 3 that it sold its assets, including sister-brand Alpine Beer Co.)
McWey's interest in beer was sparked working in restaurants. While attending San Diego State University, she first was exposed to San Diego craft beer while working at Woodstock's Pizza. The restaurant would have "beer nights" every Thursday featuring craft beers. As a server at the now closed farm-to-table restaurant The Linkery in North Park, McWey was required to be an expert in the food, wine and beers served. The Linkery often took its employees on brewery tours to help them understand where the drinks would come from.
McWey decided she wanted to make craft beer her career because she was drawn to the industry's camaraderie and its impact on communities.
"Being born and raised in Vista, I have seen and experienced firsthand the impact craft beer has had on a city that, while growing up, was not a North County destination," said McWey. "Now I see people coming into my community to enjoy it – the craft beer, the atmosphere – and staying a little longer to see what it has to offer."

Acquiring the Skills
McWey attended University of San Diego's paralegal program after her undergrad, thinking she'd want to go into law. After managing a law firm office for two and half years, McWey said she gained the organization and data managing skills to aid her leadership role in the Brewers Guild.
Prev Next