Deal is Key Driver For Revenue, IOT
Thursday, April 12, 2018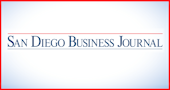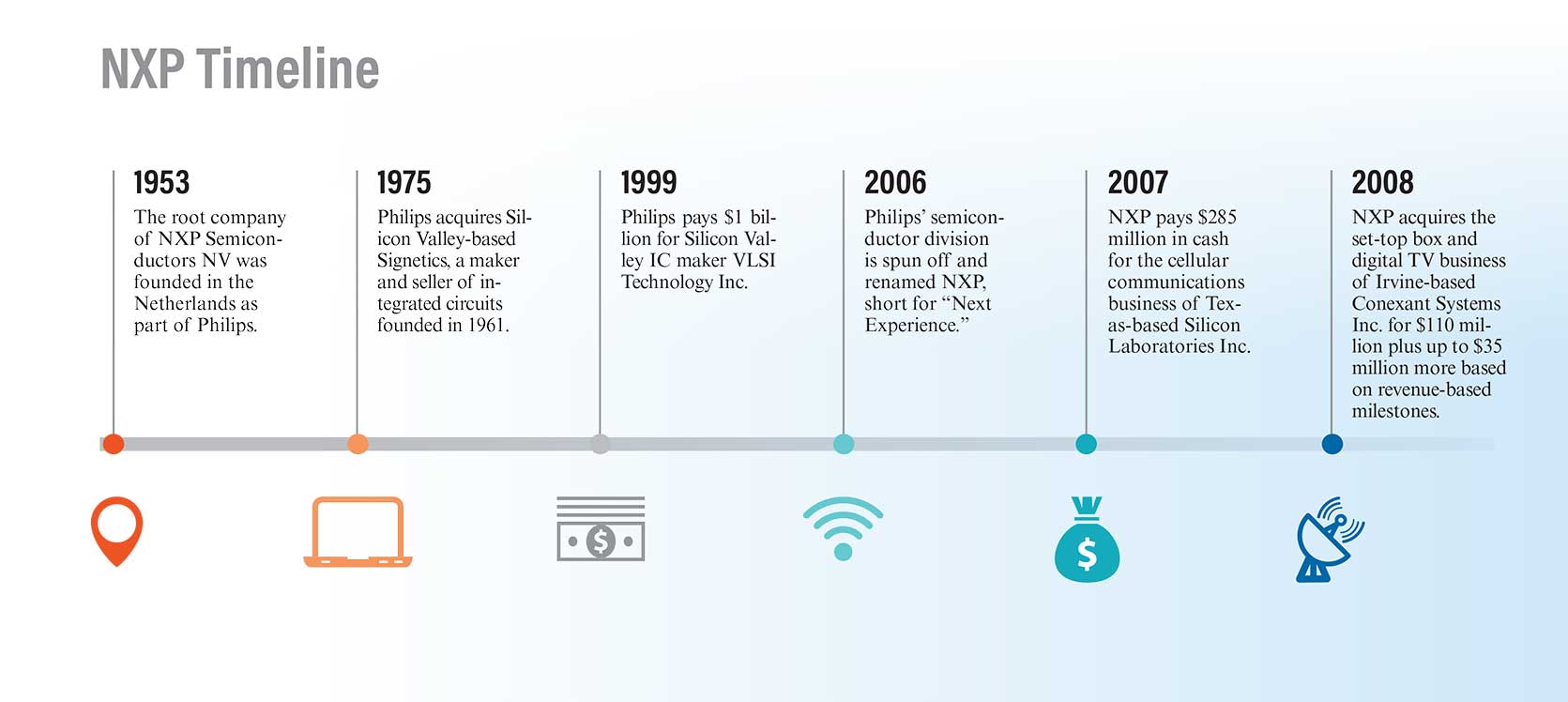 San Diego — Twice in two weeks, with Broadcom Ltd. closing in on a hostile takeover, Qualcomm Inc. issued an urgent message to its shareholders: Don't forget about NXP Semiconductors NV.
The first time was Feb. 22, when Qualcomm's board warned investors the Singapore-based chipmaker's bid of $79 per share undervalued the San Diego semiconductor giant's pending acquisition of NXP, the Dutch-owned leader in automotive electronics.
The second, more an attempt to reassure shareholders Qualcomm was fine without Broadcom, came in a March 8 news release saying it would raise dividends 9 percent and that the NXP deal would "further strengthen our foundation for future capital returns for our stockholders."
It can look like hype when a company repeatedly trumpets an unconsummated deal struck 16 months earlier. But all indications are that NXP really could give Qualcomm a profound boost.
Diversifying Revenue
Taking on NXP is expected to diversify Qualcomm's revenue base substantially while moving it firmly into fast-growing demand for automotive electronics, the internet of things and security.
Financed by $11 billion in new debt and the rest cash, the $44 billion transaction is expected to increase earnings immediately and result in an estimated half billion dollars in annual cost savings.
It won't be easy to pull off, though, even apart from what has turned out to be an extended antitrust review process. The deal was announced in October 2016, and as of the middle of last week, it still hadn't received the necessary nod from Chinese regulators.
Unfortunately, the same qualities that make the deal attractive — it brings together two companies serving very different parts of the global semiconductor market — could also make it tough to align on the operational side.
A Transformational Deal
"This is transformational" for Qualcomm, said Stacy Rasgon, senior analyst for U.S. semiconductors at New York-based AllianceBernstein LP. "They've never done a transformational deal before."
Probably the deal's biggest benefit is implied in its diversification. Taking on NXP would lessen Qualcomm's heavy reliance on a relatively few, increasingly restive manufacturing customers in the slowing smartphone market.
When Qualcomm announced the agreement, it estimated the deal would reduce the share of its revenues coming from mobile products, from 61 percent to 48 percent.
Licensing proceeds would decrease from 31 percent of Qualcomm's total revenue to 23 percent, the company said, while sales from the category including automotive and the internet of things — two relatively fast-growing segments — would jump from 8 percent of revenues to 29 percent.
Such diversification could relieve some pressure from shareholders impatient with Qualcomm's negotiations with Apple Inc., and Huawei Technologies Co. Ltd., both of which have recently withheld licensing payments.
"NXP has such a wide product portfolio, it really changes the game" for Qualcomm, said Jim McGregor, principal analyst at Arizona-based Tirias Research.
From the perspective of Qualcomm's leadership, and NXP's, the combined company would be much better able to come up with new technologies for connecting people to their worlds.
"United in a common strategy, the complementary nature of our technologies and the scale of our portfolios will give us the ability to drive an accelerated level of innovation and value for the whole ecosystem," NXP CEO Rick Clemmer said in the Oct. 27, 2016, news release announcing the deal. "Such a strong fit will bring opportunities for our employees and customers, as well as provide immediate attractive value for our shareholders, in creating the semiconductor industry powerhouse."
Integrating the Companies
But if diversification is the prize, integration is the big obstacle that needs to be cleared first.
McGregor pointed out that Qualcomm has had 18 months to prepare since the deal was announced. That should make integration smoother that it would be otherwise, he said, but it'll probably still take extra work to bring together company cultures from different continents.
"The NXP culture is a little bit different," in part because NXP is European-based and Qualcomm is American. "You always worry about culture when you integrate companies."
Rasgon is even more skeptical. He called the deal's integration risk "high," asserting that Qualcomm and NXP are very different companies serving totally different types of end markets.
Even with the added advantage of cross-selling — a key benefit, as Rasgon sees it — there's a good chance the process of joining two large companies will involve unexpected complications.
"This was always going to be a risky deal if they did it," he said.
Rasgon didn't dispute Qualcomm's estimate that there exists as much as $500 million per year in cost savings, though McGregor was somewhat less convinced. Rasgon said these cuts will come largely from shared computer systems and general administrative items.
Few doubt the deal's potential for accelerating Qualcomm's engineering achievements. The real question may be how soon that payoff will arrive.
The Clock Is Ticking
As McGregor noted, IoT gets a lot of hype these days because of the promise of wirelessly connecting appliances and other everyday products. What may not be fully appreciated, he said, is many of these things will require cellular connectivity, which is where Qualcomm excels.
Problem is, product development takes a long time, Rasgon said. Shareholders don't always have the necessary patience.
"Call me in five years," he said.
NXP Semiconductors NV
CEO: Rick Clemmer
Revenue: $9.26 billion in 2017, down 2.5 percent from 2016
Net income: $2.27 billion in 2016, up from $259 million in 2016
Number of employees: 45,000 employees in 2016, including in Chandler, Arizona, and Austin, Texas
Headquarters: Eindhoven, Netherlands
Year founded: 1953 as part of Philips
Stock symbol and exchange: NXPI; Nasdaq
Company description: Owner of more than 9,000 patents and maker of wireless and wired infrastructure, electronics for automobiles, security, networking, mobile payment systems and electronic passports