Gurtin Municipal Bond Management Opens Third Office
Tuesday, April 10, 2018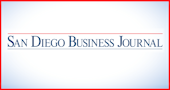 San Diego-based asset manager Gurtin Municipal Bond Management, which managed $14 billion in discretionary assets as of March 31, recently opened an office in San Francisco.
The location is the firm's third; Gurtin's headquarters are in San Diego, and it also has an office in Chicago.
Gurtin, which focuses on municipal bond portfolio management, said the Bay Area is home to many of its high- and ultra-high net worth clients and their investment advisors.
"The San Francisco office expands our presence in an area where many of our clients are located," said Nancy Vo Hamada, partner and head of operations. "Not only will we be able to better serve our current clients in the Bay Area, but we also have an opportunity to establish and develop new relationships across the greater northwest."
The new office is in the city's North Financial District, at 601 California St.
Reach reporter Sarah de Crescenzo at sarahd@sdbj.com.