TO BUILD A DIVERSE WORKFORCE, COMPANIES MUST RECOGNIZE BIAS, REDO HIRING AND DEVELOPMENT PROCESSES
When a Commitment Is Not Enough
Monday, April 9, 2018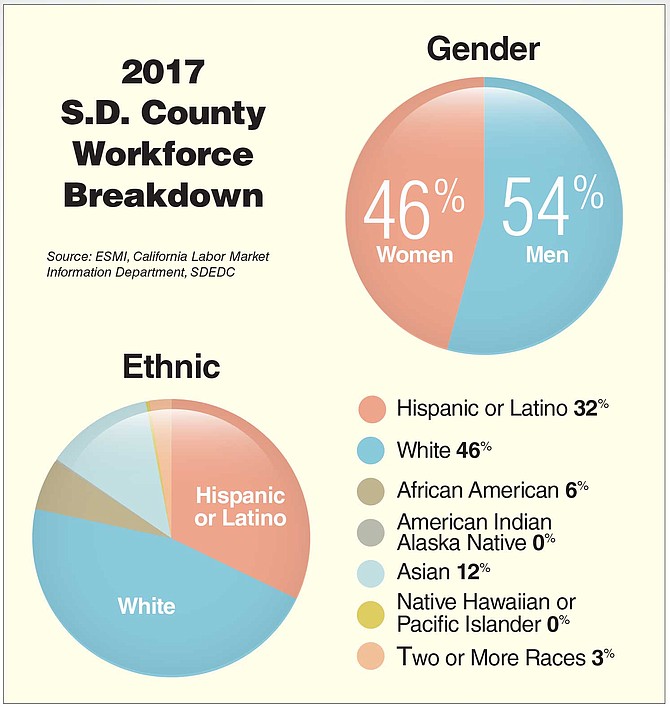 San Diego — Because achieving diversity in the workplace requires an ongoing commitment, many businesses in San Diego County are working to develop more inclusive recruiting, hiring, and promotion practices.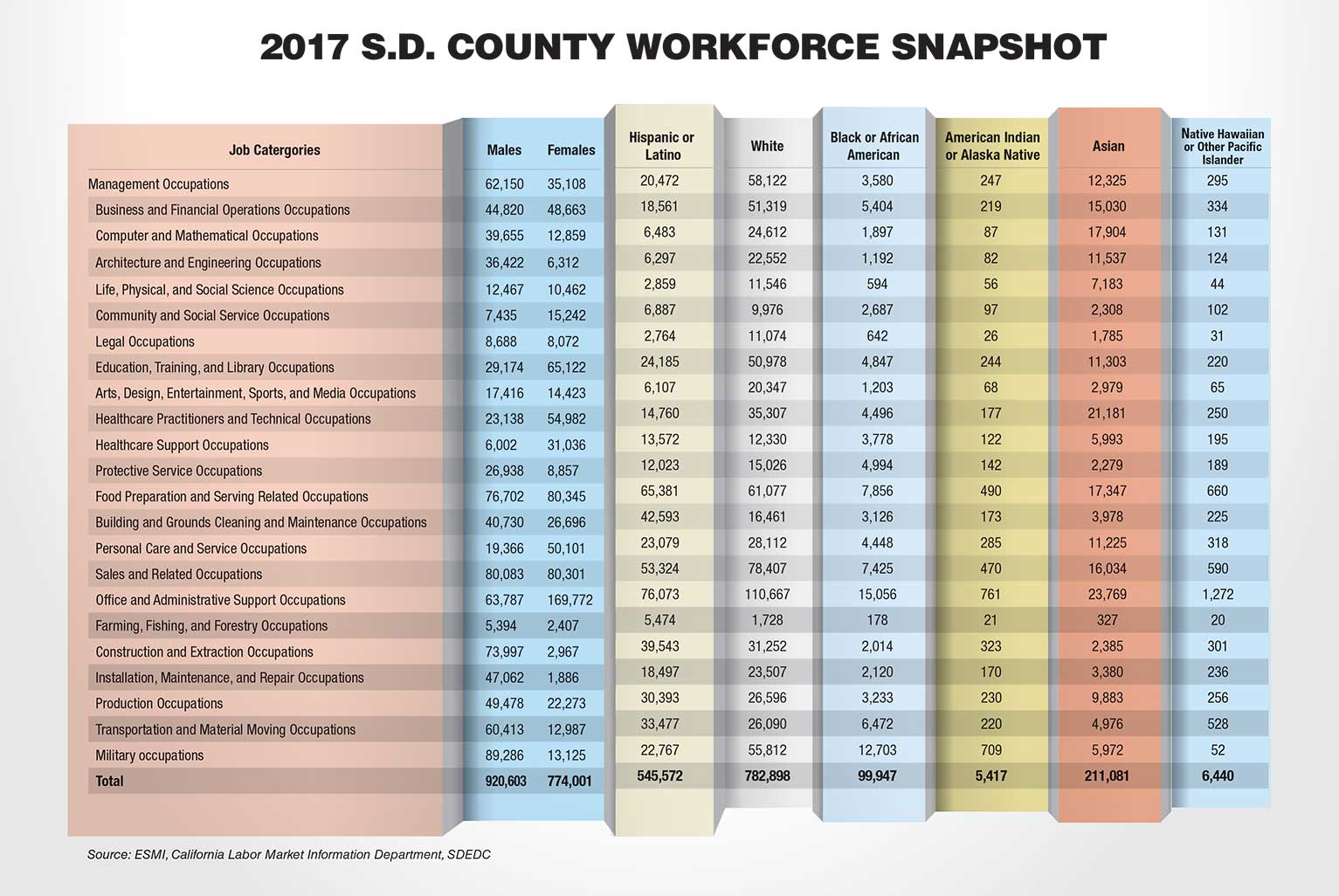 Achieving ethnic, gender, and cultural diversity is all about commitment, said Steven Jones, the CEO of Jones & Associates Consulting Inc., a leadership advisory and organizational change consulting firm based in San Diego.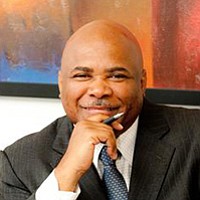 "Diversity has got to be led and engaged from the top of the organization," Jones said. "Middle managers have to be taught the skills to lead inclusively. Frontline employees have to feel the safety to share their viewpoints."
Many business owners recognize that companies that make a commitment to be inclusive typically perform better. Businesses with a diverse workforce are better positioned to create products and services that have broad consumer appeal, Jones said. A workplace that embraces diversity and inclusion can find new ways to understand the needs of customers.
"I would frame it as an opportunity for innovation," Jones said. "When we talk about diversity we say it's important to focus on diversity of thought. Diversity of thought is a key driver to innovation...The core part of that is to make sure a commitment to inclusion and diversity is connected to business goals and objectives."
Recognizing Biases
Having a positive impact on a business's bottom line requires that employees at all level have the skills to recognize conscious and unconscious biases, he said. Many local companies are struggling with how to recruit and develop diverse talent. Some companies say they want diversity but have a hard time accepting it. The tendency is to encourage people who are different to fit in. While intentions may be good, the result is a workplace that doesn't encourage new ideas, Jones said.
"I believe most executives want to have a team that wins," Jones said. "What we know from research is diverse teams outperform teams that are similar."
Denise Hummel, founder and chief innovation officer of Lead Inclusively Inc, agrees. The former attorney said her talent advisory firm focuses on the connection between inclusion and performance.
When companies commit to diversity and inclusion, they need to follow through to make sure their goals are being implemented, Hummel said.
"It starts at the top but it can't end there," she said.
Taking Action
If the commitment isn't part of the corporate culture, inclusion efforts won't be sustainable, she said. While a CEO may call for more diversity, if that isn't being acted upon by executives or the company's human resources department, the business won't make the shift. If workers are recruited to bring diversity to a company but aren't included in decisions, there will be attrition.
Many recent studies of the workplace have found that companies benefit when they make a commitment to diversity and inclusion. For example:
In 2003 a survey of banks by the University of Texas at Dallas found a clear link between racial diversity and enhanced financial performance.
A 2014 study by MIT economists found that shifting from an all-male or all-female office to one split evenly along gender lines could increase revenue by roughly 41 percent.
A survey of millennials by PwC in 2017 found that 86 percent of women and 74 percent of men in this group consider employers' policies on diversity, equality and inclusion when deciding which company to work for.
Women in the Workplace
With the rise of the Me Too movement, there has been greater attention focused on the inclusion of women in business leadership roles. LEAD San Diego, a leadership development arm of the San Diego Regional Chamber of Commerce, launched a women's training program last year to address the gender gap in high-ranking executives and in boardrooms, noted Elizabeth Fitzsimons, the San Diego Regional Chamber of Commerce's vice president for leadership and engagement. So far there have been 40 graduates.
"It's our intent to help women elevate their careers at the highest levels," she said. "Having more women in decision-making positions is good for business and good for organizations," Fitzsimons said.

At San-Diego-based WD-40, 20 percent of the board members are women. The company aggressively promotes inclusion in the workplace.
WD-40 is a global firm that markets lubricants, hand cleaners, and household cleaning products. It has 120 employees in San Diego County and close to 500 worldwide. Being open to ideas from diverse people is an advantage, said CEO Garry Ridge.
'A Tribe Not a Team'
"We call ourselves a tribe, not a team," he said. "One of the things people have a huge desire for in life is to belong. Most people leave organizations because they feel like they don't belong."
When you include everyone in workplace decisions, the company benefits financially, Ridge said.
"Varied perspectives result in creative solutions, solutions that don't emerge when disparate views are suppressed," he explained. "Varied cultural exchanges enrich the lives of all concerned, which makes the time we spend at work that much more rewarding and enjoyable. That causes engagement, which means the application of each person's discretionary efforts to the highest degree. And that causes better results than if all those brains were holding back."
Making Gradual Progress
Joe-Joe McManus, chief diversity officer for California State University San Marcos, said the young women and students of color he works with don't always realize the challenges they may face to achieve success when they enter the workplace.
"The ceiling is still there," he said. "The challenge to rise in the ranks is still there for women and folks of color. We are doing better but we're not there yet. We've certainly made progress, but I think it's important not to overestimate what that progress is."
While calling for calling for diversity in the workplace is important, it's also important to "make sure that the metrics are in place and that we hold ourselves accountable for diversifying on every level," he said.

Involving Business Leaders
Jones said that to create a workplace that embraces inclusion, top executives must be actively involved in the process.
"This is not about putting a whole bunch of people through training and everybody will change," he said. "Companies in San Diego County have to engage all leaders at the top of their organizations."