Convention Center CEO Nominated for International Association of Venue Managers Board
Monday, April 9, 2018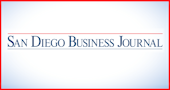 Clifford "Rip" Rippetoe, San Diego Convention Center CEO and president, was nominated for the second vice chair of the board of International Association of Venue Managers (IAVM). Rippetoe will serve a four-year term, taking on the chairman position in 2020-2021.

IAVM represents and educates public assembly venues internationally. The association's 5,100 active members are comprised of managers and senior executives from venues like auditoriums, arenas, convention centers, and exhibit halls.
Rippetoe's new role makes him one of the six members of IAVM's executive committee who work with IAVM CEO and president Brad Mayne. Rippetoe would serve on the board for four years first as 2nd vice chair, then vice chair, and then immediate past chair.
IAVM members will vote electronically on Rippetoe's nomination. If elected, he will be formally recognized at the 93rd annual VenueConnect Annual Conference and Trade Show hosted at the Toronto, Canada in July.
"It is an incredible honor to be selected to serve in this position," said Rippetoe in a statement. "I am passionate and dedicated to our industry. We all work together in public assembly venue management to convene millions of patrons to an amazing variety of events. I look forward to working with my peers to educate, advocate for, and inspire our professionals, worldwide."
A certified venue executive, Rippetoe serves on three IAVM committees and in the association's mentor program. He also serves as a Board Member for the Downtown San Diego Partnership and the Economic Development Corporation of San Diego; and as Advisor for the San Diego Hotel-Motel Association and the San Diego Tourism Authority.