San Diego AI Co. Collaborates on an Autonomous Cleaning Machine
Sunday, April 8, 2018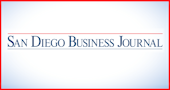 San Diego-based Brain Corp., an AI company, and Tennant Co., a cleaning product company, have teamed up to create autonomous cleaning machines.
The first Tennant product powered by Brain Corp. technology will be the T7 Micro-Rider floor scrubber with additional products anticipated soon. Brain Corp will provide its proprietary AI robotic technology software platform, BrainOS, to be used in the T7 Micro-Rider scrubber.
Tennant, which is based in Minneapolis, Minn., will introduce the autonomous machines to North American customers but plans to expand into global markets.
The commercial cleaning market is the initial application of the BrainOS robotics technology.
"We are very excited to be working with the Tennant team as we integrate our BrainOS technology into their floor care cleaning products," Dr. Eugene Izhikevich, chief executive officer and co-founder of Brain Corp, said in a statement. "When customers choose Tennant products they expect advanced innovation and technology. BrainOS-powered Tennant floor care products deliver on that promise while simultaneously providing higher performance, increased productivity and greater reliability."