Mercy Ball Brings in $700,000 to Support Scripps' Facilities
Sunday, April 8, 2018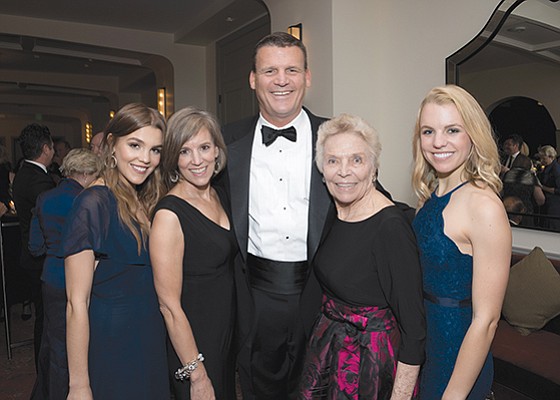 San Diego — Scripps Mercy Hospital celebrated the institution's three decades of lifesaving trauma care at the annual Mercy Ball recently at the The Pendry hotel in downtown San Diego. Nearly 500 supporters attended the sold-out event that raised $700,000 to benefit the Scripps Mercy San Diego Trauma Center patients on both campuses, including the purchase of cutting-edge technology for head and spine trauma surgery in Hillcrest and the remodel fund for Chula Vista's Triage Center.
Scripps Mercy Hospital has been providing high-quality patient care for the communities of central and south San Diego County. It was founded in 1890 by Mother Mary Michael Cummings and the Sisters of Mercy. Visit scripps.org.
• • •
Yehudi Gaffen, CEO of San Diego-based Gafcon Inc., announced that after more than 15 years in the making, the Memorial Synagogue Garden in Bauska, Latvia, was opened and dedicated last fall. This month, the memorial garden has now been recognized with a "Latvian Construction of the Year Award" in the public outdoor space category. The Building, Design and Construction Council and the publications: "Latvian Construction" and "Latvian Architecture" present this national award with a decision made by an awards panel which includes members of state institutions, non-governmental organizations and design and development professionals.
Gaffen led the fundraising and development process, along with his sister Beverly Gaffen Altman and Jehuda Feitelson, a former Bauska resident, concentration camp survivor and a retired doctor of chemistry at the Hebrew University of Jerusalem.
Bauska is a town in southern Latvia where Gaffen's family's roots stretch back to the 1750s. In 1941, 830 Bauska Jews, including Yehudi's grandparents and great-grandparents, were marched to the woods and shot by Nazi forces and local collaborators.
"My ancestors lived in Latvia for many centuries and my lineage traces directly back to the people murdered in Bauska during Nazi occupation," Gaffen said. "Working on this memorial with the people of Bauska has been an honor unlike any other project in my career and a deeply personal memory that I will carry with me for the rest of my life."
The memorial garden was conceived as a monument in celebration of the Jewish community that once lived and thrived in the town.
• • •
San Diego Habitat for Humanity announced that it is seeking volunteers for its 10th Annual Women Build event. Volunteers will devote at least one day to creating decent, affordable housing in the San Diego community during the month of May.
Habitat homeowners invest 250-500 hours of "sweat equity" working alongside Habitat staff and volunteers to help build their own homes. When construction is complete, homeowners make affordable mortgage payments that are recycled back into the Habitat program to build more homes for more families.
Women builders volunteering will build a home in Logan Heights, or volunteer in one of Habitat's three ReStores or discount home improvement centers. In addition to spending at least one day on a job site, participants are asked to raise a minimum of $200 to support the creation of affordable homeownership opportunities. This year's theme, "Empowered Women Build," shows that women can create significant change in their neighborhoods by volunteering and bringing attention to the fact that homeownership is a pathway to better financial futures, better education, better health, and a more cared-for, connected community. Since 2009, Women Build volunteers have built or repaired 14 houses in San Diego County, and raised more than $450,000. Visit sandiegohabitat.org.
• • •
The Fleet Science Center announced its new film "Pandas" from IMAX and Warner Bros. Pictures, has opened in the Heikoff Giant Dome Theater. The documentary adventure, narrated by Kristen Bell, tells a heartwarming story about introducing captive-born giant pandas into the wild.
Send Kudos/Giving items to
sglidden@sdbj.com.