FOOD: PASSION, PLACE AND VARIETY SERVE FOOD HALL OPERATIONS
A Dining Model For Changing Tastes
Thursday, April 5, 2018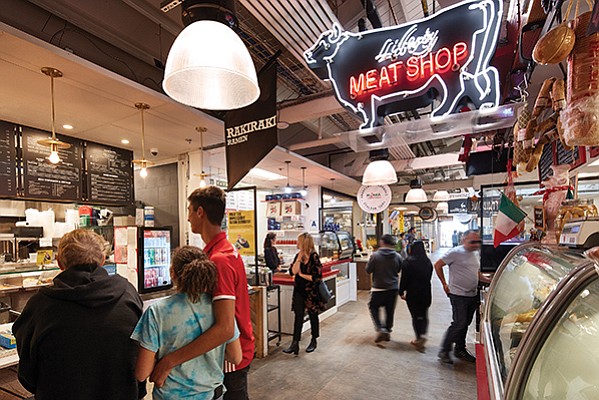 Don't Confuse Food Halls With Food Courts
• Food courts are built for convenience while food halls are designed as gathering spaces.
• Gourmet, locally sourced foods are available in food halls. Food courts typically have fast-food options.
• Chain restaurants dominate food courts. Food halls have mom and pop shops.
• Food halls must be located in buildings with character. Food courts can be in a mall.
• Food hall vendors must have passion behind their products while food courts are, again, purely for convenience.
San Diego — as new trends come up and as the dining industry changes.
Operation Models
With the success of Liberty Public Market and three more food halls planned, San Diego is seeing an expansion of a nationwide trend that appeals to both consumers and the restaurant industry.
Pam Flora, director of research at Cushman & Wakefield, thinks that San Diego in particular is a perfect place for food halls because of its high concentration of startups and chef-driven concepts. She was one of the researchers involved with the commercial real estate services company's 2016 report titled "Food Halls of America."
"The food hall is kind of the idea of both of those coming together. A lot of these are startups. A lot of these are chef driven concepts. All put into the same venue and offering something new," said Flora.
She adds that an additional factor that may give food halls longevity in San Diego and elsewhere is their structure. Food hall directors can switch out vendors that aren't working
Like food courts, food halls are a mix of food-related proprietors in separate stalls with counter service. They're usually in a large space with seating for visitors. There are a few key differences, however. Food halls feature mom and pop shops, gourmet locally sourced food, are designed to be gathering spaces, and decorated in a trendy upscale fashion. They can come in various sizes. For example, food halls below 10,000 square feet can be considered "mini food halls." There's also different operation models—people running them may act as property managers or they may own all the shops within the food hall.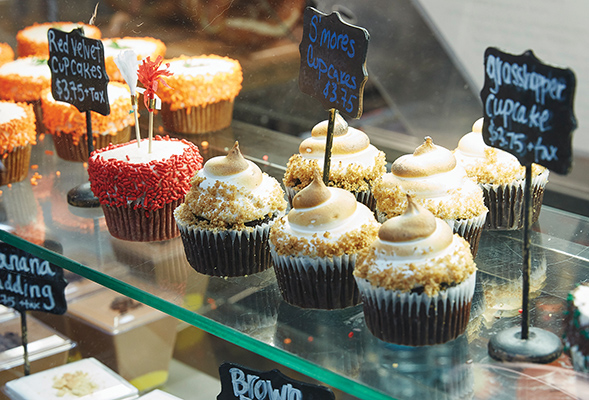 The food hall model is proving to be one that benefits the food industry. Arturo Kassel, who is developing the upcoming Sorrento Valley food hall Park Commons, says food halls' counter service model is a good solution for restaurateurs to save on labor costs. When he first started his Whisknladle restaurants in 2008, he said the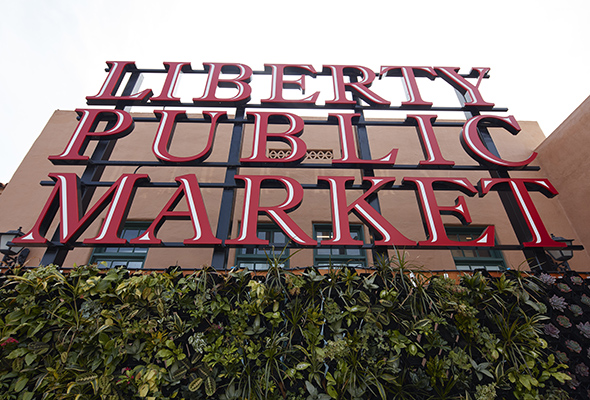 business was successful because it reached an audience looking for quality foods at non-luxury prices. He says that middle space has become squeezed and in order for restaurants to work, they need to either go high-end or go low-end.
"Where you're going to have high end, restaurant dining experiences that are deemed luxury goods whereby they can charge what they need to charge and consumers and guests are willing to pay for it," said Kassel. "Or they're going to have to find a way to go low, which is to be more volume driven or reduce costs, which is either reducing labor with the counter service model or worse — reducing quality."
Park Commons is scheduled to open this summer at the former San Diego Tech Center in Sorrento Valley.
Mike DiNorscia, who is developing the upcoming Little Italy Food Hall project with his subsidiary company, Grain & Grit Collective, says the model allows proprietors to save on rent. By sharing a space with other stores, restaurants can operate despite increasing real estate costs.
Beyond being able to offer high quality food at low prices, food halls meet consumer demands. One of these, DiNorscia thinks, is authenticity. People are less interested in chain restaurants and food halls typically feature unique artisanal restaurants with locally sourced foods you can't get anywhere else. DiNorscia says the Little Italy Food Hall, scheduled to open this summer at Piazza della Famiglia in Little Italy, will feature six locally driven-concepts including Sam Zien of "Sam the Cooking Guy" fame's Not Not Tacos, Ambrogio15, and Wicked Maine Lobster.
Demanding Variety
James Markham, who is developing the new Windmill Food Hall in Carlsbad, also set to open this summer, says consumers are demanding more variety and food halls meet that need.
"One of the problems that any restaurant runs into is you're usually either a certain type of food or a certain segment and you don't have something for everybody," said Markham. "To have 11 different types of food, different cuisines — the amount of skilled labor and staff you would have to have to do that would be cost-prohibitive."
Foot Traffic Needed
Beyond meeting consumer demands for authenticity and variety, food halls have to have a great location with lots of foot traffic in order to work. David Spatafore, who directs Liberty Public Market with his company Blue Bridge Hospitality, says this food hall has worked because of its location. Liberty Public Market, which opened in 2016 at Liberty Station, draws both locals and tourists in because it's in a central, historic, and established area.
Spatafore adds that having character is a necessity for food halls as well.
"I went to a food hall that was in a converted, I think department store in an old mall. They had the physical square footage but it was just kinda cold and food court-y," said Spatafore. "The best ones I've been to definitely are repurposed buildings…There's an energy associated with those buildings."
Changing Business Model
Kassel of the future Park Commons says food halls are just part of way restaurants are adapting to the changing business climate.
"And personally, I'm just really curious to see where things go from here because every operator I know, they're scratching their heads trying to figure out how to maintain their product quality and still be profitable to some marginal degree," said Kassel.

Correction: This article has been updated to correct the names of Grain and Grit Collective and Wicked Maine Lobster.